'Mick Jagger' Biography by Phillip Norman: 7 Things You Never Knew About the Rolling Stone
Books & Review
Updated: Oct 04, 2012 03:50 PM EDT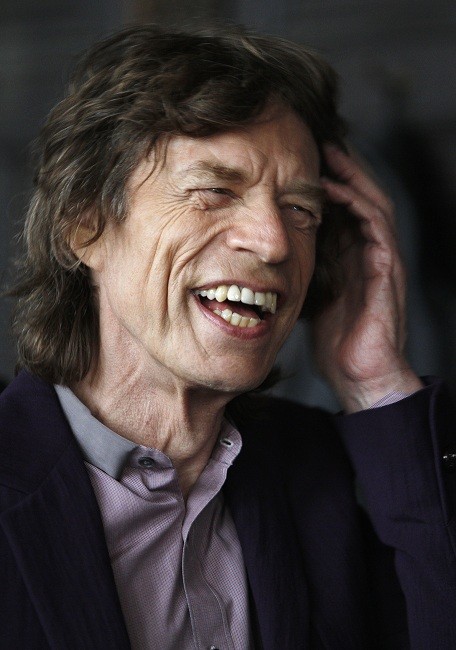 One of the most iconic rock and roll figures of the last 50 years, Mick Jagger's legacy hangs like an imposing shadow over the rest of music. His list of conquests, both artistic and romantic, is too long to conjure. Charting Jagger's rise from a poor teacher's son in the English countryside to mega-celebrity, Phillip Norman's new biography, "Mick Jagger," dives deep into the legend's history and comes up with a convincing, candid portrait of the musician.
A former Sunday Times writer who has written books on the Beatles, and John Lennon, besides a group biography of the Rolling Stones, Norman views the Beatles and the Stones as "one single epic story", an entangled narrative he's been telling for three decades. Through his great knowledge of the subject material and a certain level of detachment, Norman's take on the traditional rock and roll biography is a step above the traditional routine of unattributed anecdotes and fawning fan-club-like prose.
"It has to be said that the second half of this biography flags and becomes just a little repetitious. There is too much about Jagger mingling with the aristocrats, too many scenes of drug-taking, too much of both together, as when Marianne Faithfull at a banquet given by the Earl of Warwick 'took five Mandrax tablets by way of hors d'oeuvres and passed out into her soup,'" says The Guardian. Sounds good to us, sign us up.
Read along below for seven things you likely never knew about Jagger.
The FBI set up the "Redlands drug bust" to stop the Stones from coming to America
Norman alleges that the FBI asked the British secret service, MI5, to enlist hippie Acid King Dave to supply the band drugs. His tip-off resulted in the infamous Redlands Drug Bust at Keith Richards' house in West Wittering, Sussex, in 1967. Richards and Jagger were both found guilty, but freed on appeal and went on to tour the States.
Jagger's dad had a huge impact on his relationships with women
Basil Fanshawe Jagger was an erudite disciplinarian, an athlete who loved basketball. He taught PE, and then held a lowly post in recreational sports administration. Basil Jagger was a deeply conventional man whose chivalry to women, descended to his son in the fitful moods of protectiveness and kindness that were to punctuate the younger Jagger's romantic history and his habit of denying paternity suits, argues Norman.
In 60s London, all the rockers went to art school

The book brings out the close relationship between rock music and art schools, an especially interesting aspect of the 60s. Norman looks at art schools as breeding grounds for future musical icons as well as centers for anarchy and protest. Jagger and Richards had gone to the same primary school. By the time they met again the future star guitarist was at Sidcup Art College, and the two became fast friends. Jagger was soon emulating his new bad-boy musician friend Richards, and the rest is history. John Lennon, Pete Townshend, Eric Clapton and Syd Barrett followed the same route.

How the Rolling Stones' manager handled the band
Andrew Loog Oldham, might have set out to manage the Beatles, but he found the Rolling Stones, instead. Soon after he became the group's manager, Oldham began marketing them as the "anti-Beatles." The Beatles were seen as being prim and proper, and Oldham wanted to take advantage of this by making the Stones a grittier band. Oldham reportedly would remove all the food and drinks from a kitchen and lock Jagger and Richards in it, telling them if they wanted to eat they had better write some songs. It worked.
Jagger's first show with the Rolling Stones
His first performance with the Rolling Stones took place at the Marquee on July 12, 1962.
How Jagger lost his virginity
Jagger lost his virginity to a nurse in a store cupboard at the local Bexley psychiatric hospital where he had been working as a temporary porter.
Acid and Jagger don't mix well
At a party in a castle in 1966, Chrissie Shrimpton, Jagger's first serious girlfriend said he sampled acid for the first time. (Jones and Richards had already tried the stuff and felt a kinship for having discovered it together, one that would alienate Jagger for a time.) But he took the "sparkle" just before driving Shrimpton down a narrow winding mountain road. "He became convinced that a medieval pike had materialized inside the car and the Duke of Edinbugh's severed head was grinning at him from the end of it." They survived the drive.
"Mick Jagger" is available now.
related:
© 2015 Books & Review All rights reserved.
TRENDING ON THE WEB