'Into the Fire' by Dakota Meyer: Medal of Honor Recipient Chronicles Historic Afghanistan War Battle, Adjusting to Home Life
Books & Review
Updated: Oct 15, 2012 10:29 AM EDT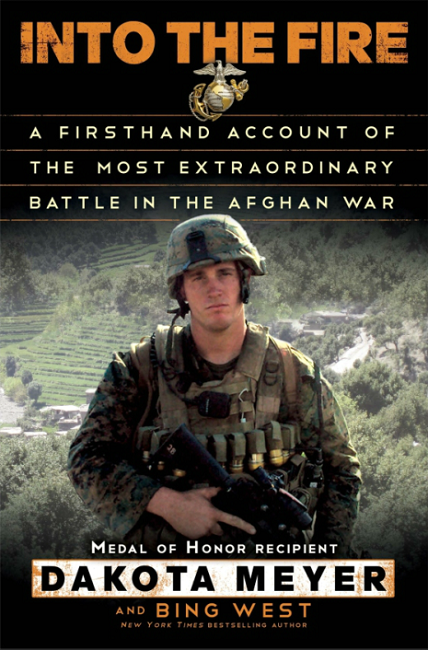 Marine Sgt. Dakota Meyer was never one to disobey orders - that's the sort of behavior that gets you killed or court marshaled. But on Sept. 8, 2009, in Ganjigal, in the rural Kunar Province of Afghanistan, Meyer didn't give himself any other choice. As his fellow soldiers went to meet a village's tribal elders they were quickly pinned down in a firefight, it was all a trap. Meyer knew he was the only hope they had of making it out alive.
"Into the Fire: A Firsthand Account of the Most Extraordinary Battle in the Afghan War" is Sgt. Meyer's incredible true story from that day. His actions would earn him the Medal of Honor, the highest military decoration awarded by the U.S. government, and the first awarded to a living Marine in a generation.
"Sergeant Meyer embodies all that is good about our nation's Corps of Marines. . . . [His] heroic actions . . . will forever be etched in our Corps' rich legacy of courage and valor," said General James F. Amos, Commandant of the Marine Corps.
Meyer, an elite Marine sniper, normally would have been on the front lines that fateful day in Afghanistan. But for once, he was pulling grunt duty, babysitting the Humvees as the others set off on the day's mission. Meyer was sitting on the hood of a truck when the lights in the city went black. After the shooting began, he couldn't make contact with his team for 30 minutes. He radioed headquarters and asked permission to enter the valley. Permission Denied. Standby.
Unacceptable. Meyer had promised his fellow soldiers he would get them home. He was not a man to break his word. With no other help in sight, Meyer directly disobeyed orders, hopped in the Humvee with Staff Sgt. Juan Rodriguez-Chavez at the wheel and headed for the shooting.
What they found was a massacre in the making. Their fellow soldiers were taking fire from Taliban fighters who had fortified cover on higher ground. Over several hours, Meyer and Rodriguez-Chavez made five trips into the kill zone, fighting back enemy combatants - sometimes hand-to-hand- and rescuing wounded soldiers.
'Fifty Shades of Grey' Displaced at Number One by New Controversial Book, 'No Easy Day'

Thirteen American and Afghan soldiers died over the course of that daylong close-quarters firefight. A number that certainly could have been much higher had Meyer and Rodriguez-Chavez not take it upon themselves to intervene.
"Into the Fire," written by Meyer and Bing West, chronicles the heroic battle that day in Afghanistan, the Afghan war effort, and adjusting to life back at home in the U.S. in explicit, ground-level detail.
"I was a hunter before I went over there, and I was a hunter still-but now I was all nervous about it, like I needed a machine-gun fix," 24-year-old Meyer wrote in The Daily Beast of trying to slip into civilian life again in his home state of Kentucky.
"You are over there long enough, and under such constant battle stress, that it resets all your settings way into the red, and they are very hard to set back. The main thing gnawing was that I didn't get my friends out as I had promised. I had spent a good part of my twenty-one years being pretty critical of other people who failed at their responsibilities, and now it was all coming back on me in a big dump truck."
Born and raised in Columbia, Kentucky, Meyer enlisted in the U. S. Marine Corps in 2006. A school-trained sniper and highly skilled Marine infantryman, Sgt. Meyer deployed to Iraq in 2007 for Operation Iraqi Freedom, and to Afghanistan for Operation Enduring Freedom during 2009-10.
Co-author West was a Marine combat infantryman, and is a member of the Council on Foreign Relations and a former assistant secretary of defense.
"Not a page of 'Into the Fire' is wasted on issues beyond an enlisted man's purview. Mr. Meyer is a simple warrior who worked by a simple dialectic: When you shoot, you hit or you miss; and when you fight, you live or you die. Bing West, his co-author, has ably captured Mr. Meyer's hard-bitten drawl and heartbreaking sadness," said The Wall Street Journal.
"With deft prose he drops us smack in the middle of one of the most heinous small unit firefights of the current wars. His insights into military tactics and politics in a war zone are sharp and uncompromising and work as a primer on infantry war fighting for the uninitiated. Dakota was a magnificent marine and he is now an equally magnificent chronicler of warfare and the small group of people who do today's fighting for America," said Anthony Swofford, author of "Jarhead."
Sgt. Rodriguez-Chavez was decorated with the Navy Cross for his courage and valor in the battle that day in the battle of Ganjigal.
"Into the Fire" is available now.
related:
© 2015 Books & Review All rights reserved.
TRENDING ON THE WEB