'Hunger Games'-like Sci-Fi Adventure 'Reached' By Ally Condie Closes 'Matched' Trilogy
Books & Review
Updated: Nov 26, 2012 12:04 PM EST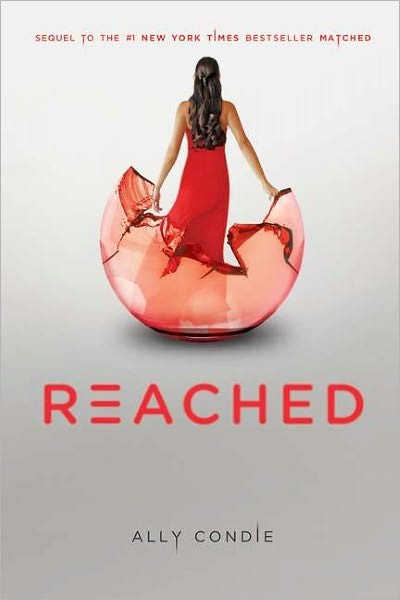 Get ready to know Ally Condie. The author's latest novel, "Reached," the finale in her "Hunger Games"-like dystopian "Matched" trilogy, just debuted at No. 6 on USA Today's bestseller list, and Disney has optioned the rights to films based on the series.
Read an excerpt from the book here
Like "The Hunger Games" and "Twilight," Condie's "Matched" trilogy centers on a tale of teenaged star-crossed lovers; a girl named Cassia who lives in a world where The Society selects everyone's ideal mate falls in love with someone other than her chosen one, and she realizes there might be more to life than what's on the surface. Before the first book in the series even hit bookstores, Disney had bought the movie rights and "Matched" was named one of Publishers Weekly's Best Children's Books of 2010.
"The response I got when I sent out the manuscript was unbelievable," said Condie in an interview with Publisher's Weekly. "You always hope that others will see what you see, but you never know. To see that much excitement for a new author is incredibly rare."
After quitting her job as an English teacher to spend more time with her son at home, Condie began tinkering with writing.
"I really missed being in the classroom, though of course I was happy to be at home with my son," she says. "I realized I wanted something to do-and I didn't want it to be dishes. I started writing, and after starting some stories I never finished, I decided to see if I could write a complete novel, start to finish," said Condie.
Between 2006 and 2010, Condie published five YA novels, all but one with a religious bent, with Salt Lake City-based Deseret Book Company, whose publications target the Latter Day Saint audience.
If that sounds like another certain successful young-adult writer, you're right. There are more than few parallels between Condie's success story and "Twilight" author Stephanie Meyer. Both writers are Mormon, live in the Salt Lake City, Utah area, and, well, just read the plot synopsis for "Reached."
Cassia's journey began with an error, a momentary glitch in the otherwise perfect façade of the Society. After crossing canyons to break free, she waits, silk and paper smuggled against her skin, ready for the final chapter.
The wait is over.
One young woman has raged against those who threaten to keep away what matters most-family, love, choice. Her quiet revolution is about to explode into full-scale rebellion.
With exquisite prose, the emotionally gripping conclusion to the international-bestselling Matched trilogy returns Cassia, Ky, and Xander to the Society to save the one thing they have been denied for so long, the power to choose.
Reviews for "Reached" have been generally positive, with the book currently scoring 4.5/5 on Barnesandnoble.com.
"Condie continues to draw readers in to her vivid broken world, adding rich color to the story through the interplay between characters and small but important moments. Unpredictable twists and revelations-yes, that includes a happy resolution to the trilogy's romantic triangle-will leave readers satisfied with the fates of their favorites," said Publisher's Weekly in its review.
related:
© 2015 Books & Review All rights reserved.
TRENDING ON THE WEB