BBC Produces Film on Seafarer that Inspired Moby Dick
Books & Review
Updated: Apr 09, 2013 08:53 AM EDT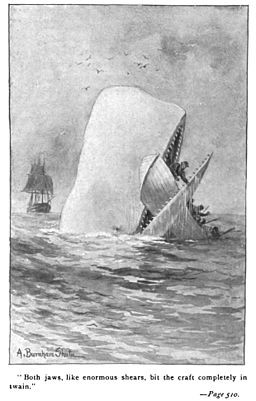 BBC has announced the commencement of shooting of its film "The Whale", which is the story of 14-year-old Nantucket seafarer Thomas Nickerson, the inspiration behind Herman Melville's classic novel Moby Dick.
Thomas Nickerson was a 14-year-old Nantucket seafarer whose atrocious tribulation on a whaling ship in the early part of the 19th century helped inspire Herman Melville's classic novel "Moby Dick".
Now, BBC has announced that it plans to immortalize Nickerson with a 90-minute drama called "The Whale", which begins filming in Malta this week.
Charles Furness will play the role of Nickerson, while "Robin Hood" actor Jonas Armstrong plays first mate Owen Chase. According to a report by The Guardian, Chase's written account of the sinking of their ship, the Essex, is usually recognized to have been the inspiration for Herman Melville's 1851 classic "Moby Dick".
Melville's classic novel is narrated by a sailor called Ishmael, and tells the story of Captain Ahab and his quest to exact revenge on a violent but enigmatic sperm whale which had destroyed his boat and bitten off his leg.
"Very few people will know that Moby Dick was directly inspired by this story, which was first told by Chase and which Melville would have read and we hope to tell it as excitingly as possible," said Eamon Hardy, executive producer of The Whale. "Nickerson's experiences were definitely recounted by Chase and would have contributed much to the classic that is Moby Dick." The drama will also bring to light the importance of whaling in the age before petroleum. "This was big business - at the time, whale oil was used all over the world," he said.
related:
© 2015 Books & Review All rights reserved.
TRENDING ON THE WEB