Chelsea Clinton New Non-Fiction Book Set for Publishing in September, Hopes to Inspire Kids
Books & Review
Updated: May 21, 2015 08:17 AM EDT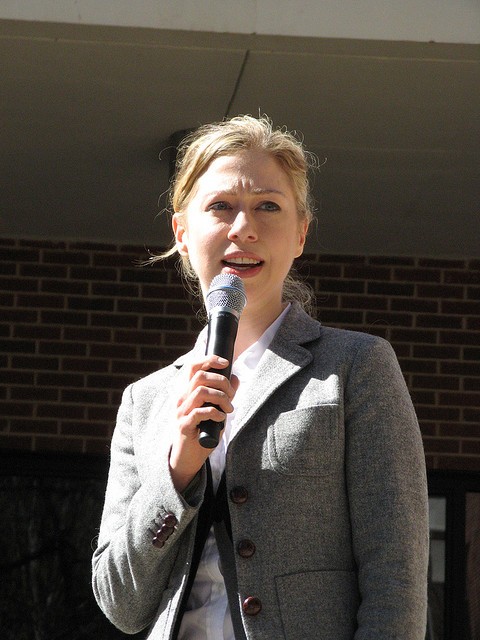 Former presidential daughter, Chelsea Clinton, wants to inspire kids to be more involved with the world through her book, "It's Your World: Get Informed, Get Inspired, and Get Going," which will be released on Sept. 15, The Guardian reports. The non-fiction book, aimed at kids aged 10 to 14 years old, will address global issues and problems that young children can be take part of in terms of coming up with solutions.
"My hope is that the book will inspire readers to realize that they can start making a difference now, in their own way, for their family, their community, and our world," said Clinton. The book will be her attempt to explain "some of the biggest challenges facing our world today, particularly for young people."
The book includes "stories about children and teens who have made real changes big and small-in their families, their communities, in our country and across the world," according to the official website of the book's publisher, Penguin.
Clinton said that her favorite childhood book, "50 Simple Things Kids Can Do to Save the Earth," inspired her to write the book. She added that as a young girl, she dreamed of raising awareness on environmental issues.
"More than two decades later, I still feel the same way - I want to do my part to make a difference - and that's why I wrote this book," Clinton shared.
Back in 2013, Jill Santopolo, an executive editor of Philomel Books had seen Clinton in a TV guesting and was impressed by her storytelling skills. Santopolo reportedly liked the way Clinton explained her father's medical procedure in a simple manner. Meanwhile, Clinton immediately said yes to Santopolo's proposal to write a book for children.
The book will arrive at an interesting time for the older Clinton, as Hillary's presidential race is expected to be in full swing by September. The new author had been part of her mother's previous Democratic nomination campaign in 2008 and was especially appealing to younger voters. This year, she is expected to be play a more visible role in her mother's campaign to the White House.
"It's Your World: Get Informed, Get Inspired and Get Going" is Clinton's first book. She graduated in 2001 from Stanford University with the highest honors. She further studied at University of Oxford and Columbia University where she obtained her Master's degree. Clinton currently serves as the vice-chair of the Bill, Hillary and Chelsea Clinton Foundation. She is also a new mom after giving birth to her daughter, Charlotte, in September 2014.
related:
© 2015 Books & Review All rights reserved.
TRENDING ON THE WEB