Laura Bush Writing Children's Book With Daughter
Books & Review
Updated: Nov 03, 2015 05:37 AM EST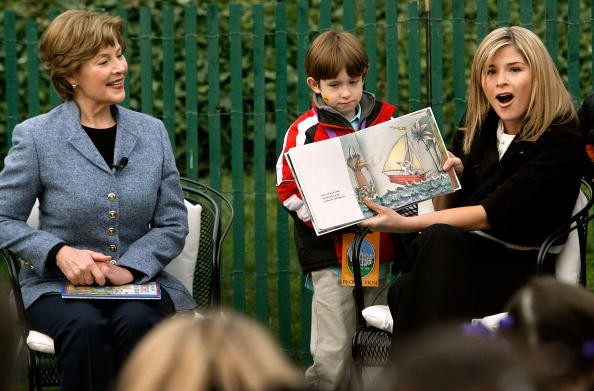 Former First Lady Laura Bush and daughter Jenna Bush Hager once again show how to spend a mother and daughter bonding time. The duo is joining forces once more for their second children's book, which is titled "Our Great Big Backyard" out May next year.
Their second collaboration is a tale about young Jane, who goes on a road trip with her family where she was able to gawk at national parks, allowing her to realize the beauty that awaits to be seen and appreciated if only she spent less time "looking at her screen."
"Our Great Big Backyard" is very special to Laura and Jenna as much as its would-be readers. "I've hiked with childhood friends in the parks for years," the former first lady reminisced in a statement to the Associated Press.
Today informed that Laura Bush serves as an honorary co-chairwoman for next year's National Park Service centennial celebration. The other one is President Barack Obama's wife and current first lady Michelle Obama.
"Jenna accompanied me on a float trip through the Grand Canyon and rode a horse for the first time when she was 3 near the Big Bend National Park. I want all children to go outside, play in nature, and explore America's magnificent sites with their families," Laura added.
Meanwhile for Jenna, the book helped her realize "how important it is for kids to get outdoors" now that she herself is a mother of two adorable youngsters. More than that, working on the title let her enjoy the "beautiful country through the eyes of a young girl." The fact that she wrote it with her mom makes the project "even sweeter," she added.
Back in 2008, the Bushes already teamed up for the same type of project. the two released a picture book titled "Read All About It!" in a bid to show the youth the joy of reading. Here, the star of the book is Tyrone, the self-titled "king of the monkey bars, a math machine and a science whiz" who learns that books are not boring as he thinks they are.
The book will hit the shelves on May 2016 and publisher HarperCollins announced that moving forward to the release date, it will plant more than 1,000 trees. According to Associated Press, a portion of the advance of the authors for "Our Great Big Backyard" will be given to the National Park Foundation.
related:
© 2015 Books & Review All rights reserved.
TRENDING ON THE WEB