Saltire Literary Awards 2015 Date & Prize: Publisher of the Year Shortlist Revealed
Books & Review
Updated: Nov 10, 2015 05:30 AM EST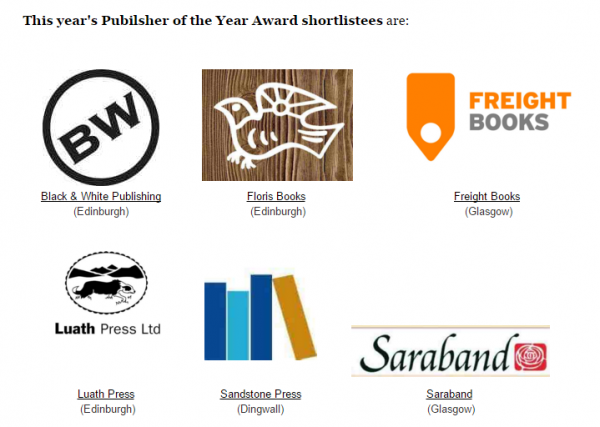 Six publishers move closer to winning the 2015 Saltire Publisher of the Year. The accolade just announced the shortlist up for the recognition, with two in the running for an encore victory.
Sandstone Press is back is one again close to winning the award for the second time around. The publishing house in Dingwall was last year's winner and could once again take the award home for successfully "expanding diversity in Scottish literature," as quoted by The Bookseller.
Aiming for another victory is Glasgow-based publisher Saraband, which won the Saltire Publisher of the Year award back in 2013. It is for its "excellent author care" that put it back into the pool of finalists.
Another shortlistee hailing from Glasgow is Freight Books, whose effort to "produce beautiful books" is very much appreciated and recognized by the Saltire award. In the eyes of the panel, the 14-year-old publisher -- which is committed in putting out "high quality fiction" -- is deemed "clever."
The last three publishers that made it to the Saltire Publisher of the Year award were all established in Edinburgh. Black and White Publishing, which publishes various genres from cooking to sport with "distinctive Scottish flavor," is loved for its "strong editorial focus and digital marketing practices."
Luath Press, which has been publishing books of all sorts including travel guides and poetry as an independent book publisher since 1981, could be the winner of the 2015 Saltire Publisher of the Year award.
This year's shortlist was determined by a judging panel of six, whose names are known in the world of Scottish book publishing. Acting head of Literature in accolade founder Creative Scotland Aly Bar is among them as well as Jenny Brown from Jenny Brown Associates.
Rosamund de la Hey from Mainstreet Books, New Writing North CEO Claire Malcolm, Publishing Scotland Chief Executive Marion Sinclair and Professor Claire Squires of University of Stirling make up the rest of the board.
The 2015 Saltire Publisher of the Year will be crowned on Nov. 26 in Central Hall, Edinburgh. "Join us in raising a glass to this year's Saltire Literary Awards Awardees as we celebrate excellence in Scottish Literature," Creative Scotland teased in an invite.
The winning publisher will bag £4000 "to assist its business in its further development," the institution wrote. In the event a second shortlisted publisher will be honored, the publisher in question will get to take home the prize money of £500.
related:
© 2015 Books & Review All rights reserved.
TRENDING ON THE WEB