Dictionary.com Adds New Words Yaaas, Fleek, Facepalm & More!
Books & Review
Updated: Nov 12, 2015 05:28 AM EST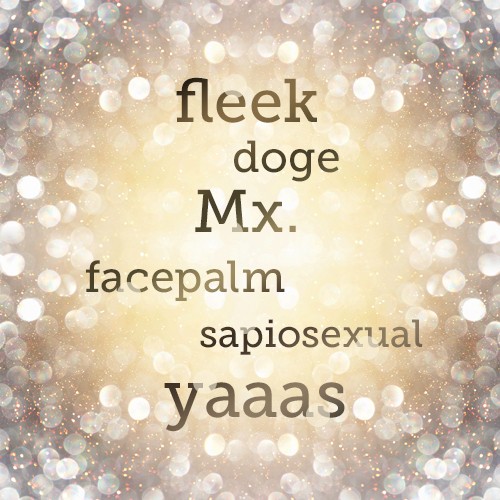 A whole host of often used and eventually popularized terms and slang on the internet have officially been recognized by Dictionary.com as new words. The latest additions to the online lexicon are mostly heard, read and basically came about in social media.
As of this month, users can now formally compliment someone or something that's "flawlessly styled, groomed" by saying it is "fleek." It has been in use for a while now but Dictionary.com finally makes "feels" a real noun as it was being used online. It means "strong, often positive feelings."
Dictionary.com also now approves the formal use of "doge." People of the internet should have come across this word by now, which is a term used to describe an online fad or a meme featuring a Shiba Inu dog with phrases often with "wrong modifiers or shortened word forms" that "humorously represent" the pooch's imagined thoughts.
Another internet-born new term is "facepalm," which Dictionary.com defines as an expression of embarrassment, frustration or disbelief. As the word suggests, it is the gesture where one places the palms of his or her hands across the face."
A lot of acronyms have been added by Dictionary.com as well. Instead saying "in real life," users can now simply say "IRL." The same goes for "to be honest," which can simply be stated with "TBH." The honor of winning in prestigious accolades like the Emmy, Grammy, Oscar or Tony can now be articulated as "EGOT."
Also apparently in this age, exclaiming a big, loud "Yes" isn't enough. To fully express that strong, uncontainable surge of excitement or total approval or agreement, using the word "yaaas" is far better and more accurate. Additionally, "bestie," short for best friend, is now a real word.
Dictionary.com also acknowledges the word "matchy-matchy (having colors or patterns that match or harmonize too closely), "kk" (short for okay or OK) and "KenKen" (a brand name for a numerical logic puzzle printed on a grid subdivided into clusters of squares, or cages). Gaming terms like "nerf" and "respawn" also make it to the growing lexicon.
For this month, there are a total of 150 new words added to Dictionary.com. As per Entertainment Weekly, the team behind the website explains that the word additions often come from "the time-honored practice at the foundation of dictionary writing: reading widely."
Lexicographers continuously "[scour] sources from literature to scientific journals to news media outlets" so as to discover new words and become aware of the evolving definitions of existing ones. Check out the complete list of the new list of words here.
related:
© 2015 Books & Review All rights reserved.
TRENDING ON THE WEB