'American Horror Story: Hotel' Star Lady Gaga & Tony Bennett Featured in New Barnes & Noble Holiday Campaign Ad
Books & Review
Updated: Nov 16, 2015 05:21 AM EST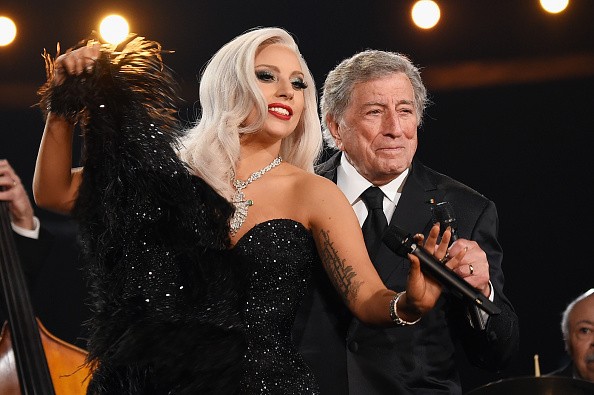 To get readers into the holiday spirit, publisher Barnes & Noble released a festive commercial featuring legendary singer Tony Bennett and pop sensation Lady Gaga singing a duet of "Baby, It's Cold Outside" as they combed through a jolly, holiday-adorned Barnes & Noble bookstore to find the perfect present to take home for each other.
The world-class singers teamed up for the publisher's new major advertising campaign called "You Never Know Who You'll Meet at Barnes & Noble" recently launched by the world's largest publisher. It was written by Barnes & Noble chairman himself Leonard Riggio.
"This campaign is like a holiday card from Barnes & Noble to all of its customers. We hope that this little gift of a performance by these two incredibly talented artists will put a smile on people's faces," Amy Sacks, the co-creative director at Roberts + Langer DDB which produced the ad, said in a statement.
Sacks added that the unquestionable singing chemistry of the duo will certainly give viewers the Christmas cheer and it will ultimately give fans the gift of fully experiencing the "true warmth" the singers so harmoniously and effortlessly share.
"Tony Bennett and Lady Gaga are two of the most iconic artists in the world today and we're thrilled to bring some of their magic to Barnes & Noble customers," Barnes & Noble vice president and creative director Glenn Kaplan said. Having Bennett on board was easy too, as Riggio is a long-time friend of the singer, as per The Hollywood Reporter.
But this isn't the first time the two collaborate. Bennett and Lady Gaga recently released a chart-topping album titled "Cheek to Cheek." The pair recently wrapped up a sold-out world tour for the bestselling album. The two has performed various songs and concerts together as well.
There are two versions of the ad -- one is 30 seconds long and the other spans an entire minute. Both will be aired today when shows such as "Scandal," "The Voice" and "How to Get Away with Murder" on ABC, NBC and CBS respectively go on commercial break.
On the other hand, the ad also marks the renewed partnership of Roberts + Langer DDB and Barnes & Noble as well as Lady Gaga and Swedish director Jonas Akerlund, who worked with each other in the past.
Christmas is indeed merry for Barnes & Noble, which prepared each and every one of its stores nationwide for the holiday shopping with not only a massive selection of books including adult coloring books but also tons of non-books and novelty items perfect for gift-giving - toys and games, tech, vinyl music, gift items and a lot more.
related:
© 2015 Books & Review All rights reserved.
TRENDING ON THE WEB