Khloe Kardashian 'Strong Looks Better Naked' Book: 'KUWTK' Star Opens Up About Body Issues, Confidence & Insecurities
Books & Review
Updated: Nov 16, 2015 05:40 AM EST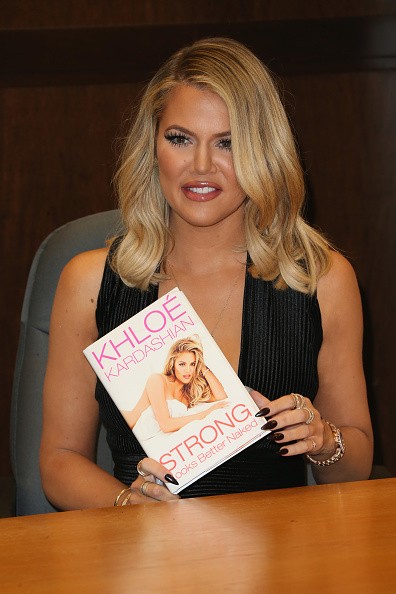 "Keeping Up with the Kardashians" star Khloe Kardashian had a lot to talk about in her new book "Strong Looks Better Naked." In the tome, the reality star opened up about body issues and insecurities, losing and building confidence and everything in between.
In an interview with Ellen DeGeneres on "The Ellen Show," the 31-year-old celeb revealed that writing the book helped her get through a difficult period in her life. The dire situation she was in ultimately made Khloe realize that "it was the right time" to pen a book.
"And the crazy thing is as much as I went through everything that was dramatic and I feel like your scars make you better and tell a better story in life, but this book is very much what I'm living right now," Kourtney and Kim's younger sis went on to say.
During the interview, Khloe recalled how her depression (that was primarily caused by her being away from family and friends) led her to frequenting the gym. In "Strong Looks Better Naked," she revealed as quoted by Refinery29 that "the gym was a genuine oasis -- a refuge and a sanctuary."
"My workouts were not about vanity; they were about relieving stress. I had so much going on emotionally, and I was disinclined to talk about it, even with my own family, so the workouts became a form of therapy," she went on to say.
As she enjoyed the comforts of the gym and working out became a healthy obsession, Khloe, as per Bustle, made it an enduring mission to stay in shape and this, she admitted to San Diego Union Tribune during a book signing event, is really difficult.
She said that missing a workout session, she starts to feel bad mentally and goes off-track. Although now, she learned not to give herself a hard time. Tons of workout sessions later, Khloe realized that confidence only shines through when you let it.
"I don't weigh myself, and I don't own a scale. It's about how I feel. I think when you feel good, you look good and you just exude all this confidence that you have. I just love the way I feel, even how clear-headed I am. I think what surprised me most is how much I enjoy it now," Khloe said.
"Strong Looks Better Naked" also sees Khloe touching on her marriage with Lamar Odom, Caitlyn Jenner's transformation and how the Kardashians love drama.
related:
© 2015 Books & Review All rights reserved.
TRENDING ON THE WEB