Google Play Books More Comics-Friendly! Here's How to Use New Horizontal Mode
Books & Review
Updated: Nov 16, 2015 07:09 AM EST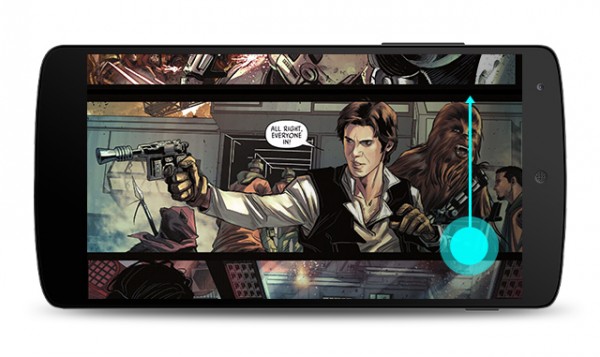 Google constantly works to give comics-loving users an unspoiled digital comic book reading experience. So, the software giant brought in a beautiful new update for Google Play Books that allows users to read in horizontal mode with just one flip.
"Reading a comic book is all about following the story and enjoying the art, dialogue and pace the way you want," Google wrote on their official Android blog. "But navigating a comic can be tricky on a small phone or tablet screen," the tech company acknowledged before introducing a solution.
Now, fans can enjoy reading their favorite comic books and admire their beauty in their entire digital glory via landscape mode. By flipping the device on its side, it will only take vertical swipes to seamlessly read through the story. That way, the speech bubbles will be more readable.
Also, thanks to the new Google Play Books update, readers can now tear through their comics continuously as the app will automatically jump from one page to the next. Apart from all that, Google has cooked up more surprises for comic books fans.
Organizing the volumes and the issues of the comics, which could sometimes be stressful, is made unproblematic and it's all because of the addition of a new central comics destination. With this, users can say goodbye to those days where they got lost just looking for that specific issue or volume to catch up on.
In addition, Play Books can now give recommendations of new stories and comic books based on what users read from the app. That way, it will be much easier for readers to explore other comic books and tales that they consider their cup of tea. Curated pages will now be included too.
As per Android Authority, this promising Google Play Books update is poised to rollout to various regions around this time. These locations include US, Canada, Australia, UK, India, Singapore, Ireland, New Zealand and South Africa. The new update will be on the way to iOS users soon.
Google Play Books offers a wide range of comics titles from various publishers like DC Comics, Marvel, Image, IDW and Dark Horse. The app aims to make comic book reading handy and more portable so catching up with the stories is made easier.
There are tons of titles on offer. The most popular titles include "The Walking Dead," "Justice League," "Deadpool," "Mortal Kombat" and "Batman."
related:
© 2015 Books & Review All rights reserved.
TRENDING ON THE WEB