'Deadpool' Comic Book Mini-Series in the Works! Release Date, Spoilers & More
Books & Review
Updated: Nov 19, 2015 06:40 AM EST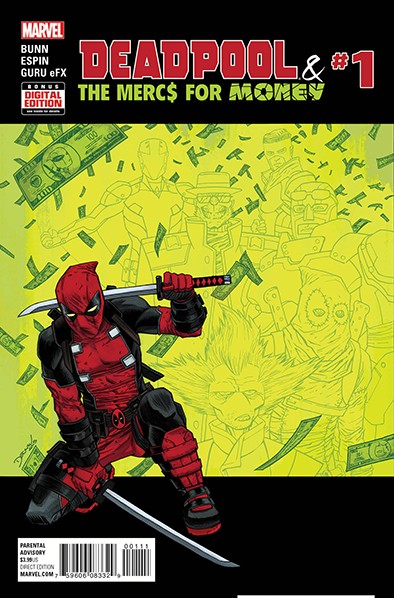 Fans better get themselves ready for next year with more Deadpool coming their way. Apart from an exciting and fun action-packed film that centers on the character, Marvel is also working on a five-part comic book mini-series starring the merc-with-a-mouth.
The mini-series is called "Deadpool and the Mercs for Money" and fans would love to know that Deadpool vets Cullen Bunn and Salva Espin, who are prolific writers of the Marvel fan-favorite, will be in charge of the project.
Fans will be in for another set of thrilling and side-splitting adventures of the red-clad antihero involving other mercenaries that come across the universe's most valuable artifact, which, of course, is wanted by every breed in the cosmos, both dangerous and tame.
"In Deadpool, we've learned that Wade has recruited a bunch of mercenaries to work for him," Bunn said of the upcoming titles to IGN. Mercs like Foolkiller, Terror and Slapstick who has already worked with Deadpool, will be among the members of the team.
"In this series, we see that team working together on a pretty wild mission, one that puts them in the crosshairs of dozens of the Marvel Universe's deadliest assassins, cutthroats, and murderers - both established and new characters who will stop at nothing to kill Deadpool and his crew," he added.
It looks like it will be a star-studded project with a lot of Marvel characters making an appearance, including known baddies like Lord Deathstrike and the Crazy Gang, Taskmaster and Evil Deadpool, the antihero's "sorta undead nemesis" pursuing the team to for the all important relic.
Bunn cleverly summarized the general idea of "Deadpool and the Mercs for Money" by saying that it will look like the classic war film "The Dirty Dozen" and the 2010 ensemble action film series "The Expendables" if Wade Wilson was the leader of those iconic troop.
To further illustrate his point, Bunn went on to say that the comic book mini-series is also best described as "Saving Private Ryan" but one that doesn't involve rescuing a soldier but "trying to make a metric ton of cash."
"Deadpool and the Mercs for Money" will be published in February next year and according to The Hollywood Reporter, the mini-series will be made available simultaneously with "Uncanny Avengers," "Spider-Man/Deadpool" and "Deadpool & Cable," where everyone's favorite mercenary will also be featured.
According to Galley Cat, the main cover variants will be created by artists Declan Shalvey, John Tyler Christopher, Mike Hawthorne and Ron Lim.
related:
© 2015 Books & Review All rights reserved.
TRENDING ON THE WEB