AJ Lee's 'Crazy is My Superpower' Book Set to Release in 2017
Books & Review
Updated: Nov 20, 2015 06:10 AM EST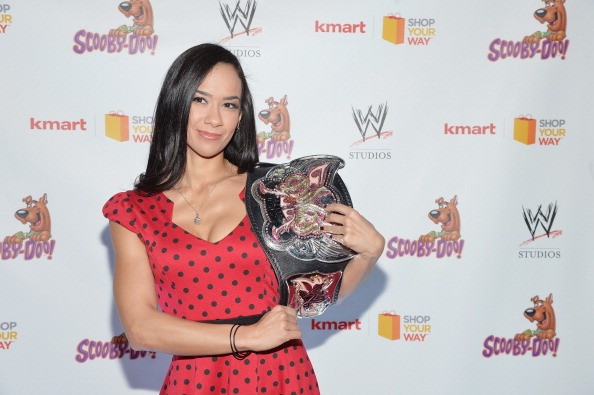 Former WWE Divas Champion AJ Lee promises to pack a punch in her upcoming book "Crazy Is My Superpower," which is set to hit shelves in 2017. The book deal was announced by literary and talent management organization Leshne Agency, who promised a hard-hitting literary memoir.
In "Crazy Is My Superpower," Lee (who will write under her real name AJ Brooks) will recount her extraordinary and challenging journey from being a "100-pound nerd" to a glorified warrior and a champion in and out of the ring.
The memoir will give Lee's fans a pretty good look at what and who Lee was before getting inside the ring aprons that changed her life. As per Leshne Agency, Lee will get a little too real in the memoir as she shares her tale of bravery as she went about the challenges of life under "extreme poverty and enduring years of abuse."
With the memoir, Lee will reveal how she get past the thought of being looked at as an "international sex symbol ... who fought against stereotypes, forced the men in her industry to view her with respect, and inspired a huge fan base of over 2 Million Twitter followers with her fierce independent streak."
The former WWE superstar also confirmed the news about the book deal on her Twitter shortly after Leshne Agency's announcement. In her tweet, she called her book deal with Penguin Random House and Crown Publishing "a lifelong dream come true."
Fans have tons of reasons to be excited for "Crazy Is My Superpower" as this will allow them to get to know Lee beyond the surface and the defining experiences that made her a fighter and an advocate for equality. It will also allow them to relive Lee's legacy in the WWE scene.
It's been a while since Lee stepped in the wrestling ring. She is no longer in the business and according to Caged Side Seats, she already retired back in April and married then-fellow WWE wrestler and UFC fighter CM Punk (real name Phillip Jack Brooks).
The aforementioned publication adds that Lee now has other non-wrestling related endeavors. On her Twitter account, she describes herself as a an "adorably evil writer ... and a foulmouthed gamer." To know the latest of what Lee is up to, check out her website AJ-Brooks.com.
"Crazy Is My Power" will be published 2017. No specific date has been determined yet.
related:
© 2015 Books & Review All rights reserved.
TRENDING ON THE WEB