'Real Housewives of New Jersey' Star Teresa Giudice to Release Tell-All Memoir 'Turning the Tables'
Books & Review
Updated: Nov 24, 2015 08:19 AM EST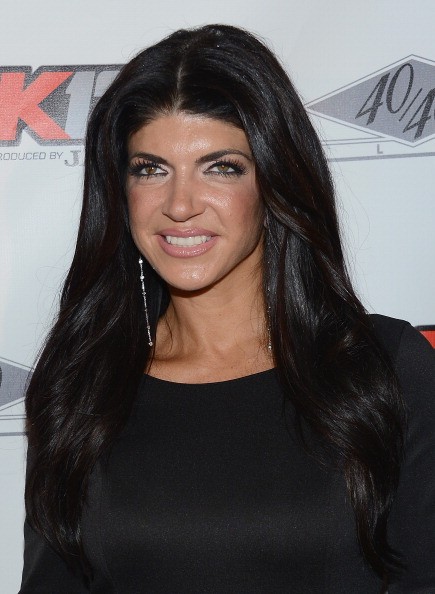 "Real Housewives of New Jersey" star Teresa Giudice is ready to show the "new Teresa" a.k.a. "the Teresa [she] always was" in her upcoming tell-all memoir "Turning the Tables: From Housewife to Inmate and Back Again."
Giudice will open up about her experiences and struggles in prison, with diary entries she wrote from behind bars set to be included in the book, detailing how she stayed strong through this tough stage. For the uninitiated, the reality star is sentenced 11 and a half months in prison for fraud and conspiracy charges.
More than that, the mother of four, whose prison sentence ends a couple of days before Christmas, will also generously write her life as a wife, a mother and a reality star in "Turning the Tables: From Housewife to Inmate and Back Again."
A press release picked up by Radar Online teased that her "explosive and ultimately uplifting first-ever memoir" will offer a "behind-the-scenes look at life in prison, her marriage, her rise to fame, the importance of her family, and the reality TV franchise that made her a household name."
"People think they know everything about me ... but they don't. Not even close," Giudice said. "The world will see a new Teresa. A different Teresa. Well, actually, the Teresa I always was," she maintained.
On the other hand, Giudice's lawyer James J. Leonard Jr. told to the aforementioned publication that "Turning the Tables" will be about "growing up from humble beginnings." Back in July, the star told Radar Online how excited she was to see her husband Joe and their kids.
As per NBC New York, Bravo's resident catfight instigator will be at the Federal Correctional Institution in Danbury, Connecticut until Dec. 23. After that, she will be under house arrest until Feb. 5, four days prior to the book's publication.
The institution, as the site additionally, is the same one where memoirist Piper Kerman served her sentence. After being released, she went on to write a book titled "Orange Is the New Black" to give readers a look at her stay in the correctional. The book inspired the hit Netflix series of the same name.
Giudice will have until March to bond with Joe as he will be starting his incarceration around that month. Her husband will make it to the launch of the "Turning the Tables: From Housewife to Inmate and Back Again," which will be out Feb. 9.
related:
© 2015 Books & Review All rights reserved.
TRENDING ON THE WEB