'Gone Girl' Star Rosamund Pike Lends Voice to 'Pride and Prejudice' Audiobook [Listen]
Books & Review
Updated: Dec 02, 2015 07:52 AM EST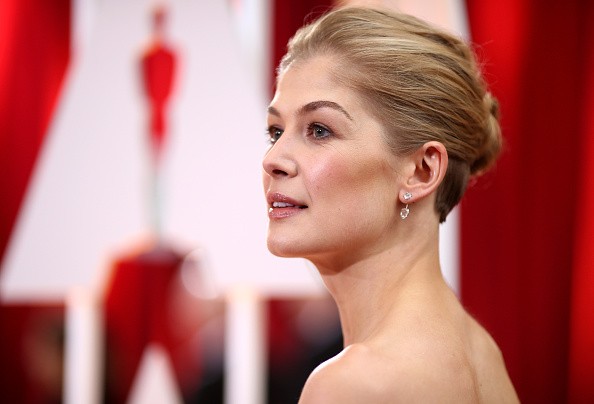 Rosamund Pike just can't get enough of Jane Austen's timeless classic "Pride and Prejudice." The Academy Award nominee will be the voice behind an audio version of the legendary tale of the Bennett sisters to be released by Audible.
The "Gone Girl" star isn't new to the world of Austen. Pike starred in a movie adaptation of the book a decade ago. She played the role of the eldest among the four Bennett sisters, Anna whose glowing beauty is admired by the family's neighborhood.
The movie is among the first major films Pike has ever starred so fans can imagine how easy and great it was for the actress herself to immerse herself in "Pride and Prejudice" once again. Audible promises in the audiobook's description that Pike's performance was alluring.
"In her bright and energetic performance of this British classic, she expertly captures Austen's signature wit and tone," the world's largest and leading audiobook seller and producer stated.
"Her attention to detail, her literary background, and her performance in the 2005 feature film version of the novel provide the perfect foundation from which to convey the story of Elizabeth Bennett, her four sisters, and the inimitable Mr. Darcy," the company added.
People magazine testified Pike's prowess as a narrator with the site believing her narrating prowess is very much alluded to her exposure to the book in the 2005 film alongside Keira Knightley, which the publication believes made it easier for Pike to channel her inner Austen.
A sample of the "Pride and Prejudice" audiobook read by the actress is available on SoundCloud (uploaded via People). In the two and a half minute-long foretaste, Pike recited the third chapter from the tome, particularly the part that tells of how the "lively and unreserved" Mr. Bingley danced the night away while Mr. Darcy proved himself to be "the most disagreeable man in the world."
The entire "Pride and Prejudice" audiobook runs for 11 hrs and 35 minutes. It is currently available for pre-order and will officially be released by Audible on Dec. 8.
The original tome written by Austen was published way back in 1813 but even after two centuries, the book remains a literary gem whose lessons still apply in this modern era.
"Pride and Prejudice" tells the story of Elizabeth Bennett, who attempts to rise above the repressive limitations posed by the 19th-century England. The book has inspired movies, other books and television shows, the latest being "Pride and Prejudice and Zombies."
related:
© 2015 Books & Review All rights reserved.
TRENDING ON THE WEB