'Divergent' Author Veronica Roth Teases Upcoming YA Book
Books & Review
Updated: Dec 07, 2015 06:36 AM EST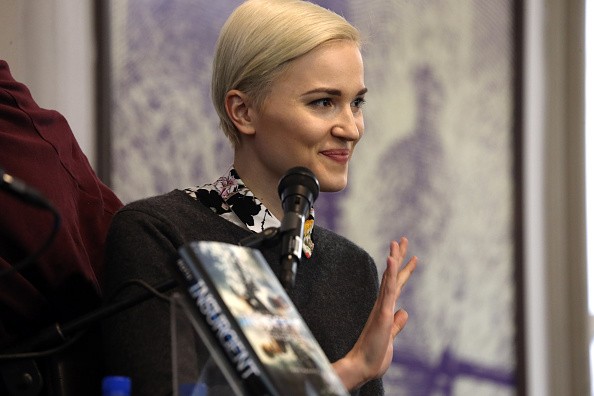 "Divergent" author Veronica Roth dished new details about her upcoming sci-fi book set to release in 2017. The author is currently writing the tome, which will be first of her two future offerings, but has found time to write "a better summary" for fans to understand what the book will be about.
On her Tumblr account, Roth revealed that she is working on a sci-fi fantasy story back-dropped by "an extreme political unrest," recognizing its unmistakable likeness with the George Lucas epic space opera "Star Wars."
"In it a boy named Akos, along with his brother, is kidnapped and brought to an enemy nation. When the dictator of that place threatens his brother's life, Akos has no choice but to work with a girl named Cyra (the dictator's sister), to save him," Roth wrote.
"But Cyra's trust-and her kindness!-are difficult to earn...to put it mildly. And the intense friendship Akos and Cyra form puts them in more danger than they could ever have imagined," she added, complete with two gifs of cute, happy dogs that she said resemble her feelings about writing the tomes.
When Roth's book deal was first announced by HarperCollins back in March, the publisher already noted in the press release that the forthcoming duology by Roth are written "in the vein" of "Star Wars," adding that Roth's "poise and poignancy" will be the foundation of the books.
It would seem that Akos and Cyra will embark on a journey that will force them to be a team despite their nature. They will eventually help each other to attain redemption and revenge in the face of desperation to get out of this cruel reality.
Hypable notes that the new books will be the first that sees Roth step out of Tris and Four's dystopian world. Needless to say, her "Divergent" series were a massive success with the last of the movie adaptations "Ascendant" hitting the silver screen in March 2017.
As for Roth's upcoming duology, the first installment is slated for 2017 while the follow-up is scheduled to hit the shelves the year after. It will be quite a long wait for fans but the author has an explanation for that.
"I've stepped away for a while, to work on other things, and then come back when I have better perspective. I've been more patient with myself and with the story," she told The Hollywood Reporter earlier this year. That being said, it looks like the books will be well worth the wait.
related:
© 2015 Books & Review All rights reserved.
TRENDING ON THE WEB