'Harry Potter' Coloring Book Hits Amazon's List of Most Wished For Presents of the Year
Books & Review
Updated: Dec 11, 2015 07:02 AM EST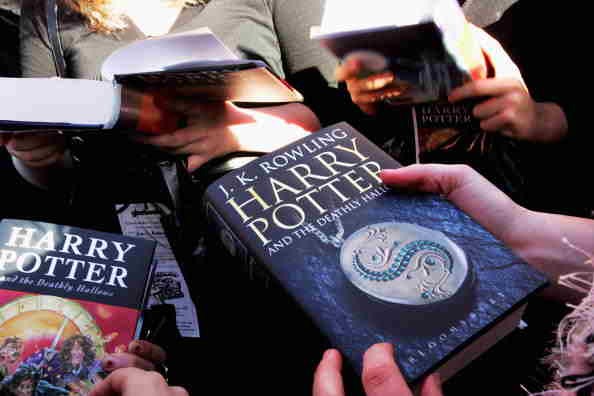 One of the biggest wishes of Amazon customers are enough copies of the "Harry Potter" Coloring Book for everyone. This proves that J.K. Rowling's fantasy series about the young boy destined for greatness in the wizarding world has not lost its magic one bit.
The book made it to the sixth spot of the biggest online retailer's customer Wish List for this year. According to The Bookseller, the coloring book was sold out within two weeks as 50,000 copies of it easily flew away from Amazon's shelves.
The "Harry Potter" Coloring Book was released early last month. With it, fans were able to give new color to the world they came to love from the movies that came out of Rowling's bestselling books. As per Galley Cat, the book was packed with memorable scenes from the movies as well as characters and creature from the magical universe.
There are sketches of Harry and his friends Hermione and Ron as well as their greatest Voldemort. The coloring book also features Dumbledore, moments from a quidditch game where Harry excelled and even the ever lovable Dobby.
There's basically a whole lot of a familiar big world waiting to be given life once more by fans in the "Harry Potter" Coloring Book. It remains the number one bestseller in Amazon's children's drawing books category and, up until now, fans still await new copies of it to come in.
There are 10 items on the list considered to be the "most wished for presents of the year" and this very list proved that fans always clamor for the new stuff that comes out may it be games, books or movies. Topping the whole thing is a "Jurassic World" DVD, which isn't much of a surprise.
"Wish Lists offer a real-time insight into what people up and down the country would like to receive on Christmas morning," Amazon UK media director Alison Forrestal.
"This year, blockbuster film releases such as Jurassic World and Inside Out are hotly anticipated and it seems you also can't go wrong with coloring books, family games and kitchen gadgets," she went on to say.
Amazon also released its list of the top 10 most sought-after autobiographies for the year 2015. As per Evening Standard, "When You Dead," the memoir of motorcycle racer and TV presenter Guy Martin, turned out to be the bestselling title since last month.
related:
© 2015 Books & Review All rights reserved.
TRENDING ON THE WEB