'Throne of Glass' Coloring Book in the Works! Sarah J. Maas Feeling 'Unbelievably Ecstatic'
Books & Review
Updated: Dec 17, 2015 06:21 AM EST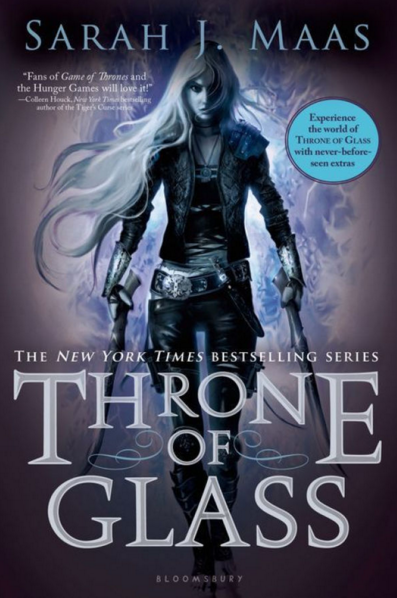 Fans can finally reimagine the world of brave 18-year-old assassin Celaena Sardothien through their perspective, thanks to a coloring book inspired by Sarah J. Maas' bestselling young adult series "Throne of Glass," which will be released by Bloomsbury next year.
"Sarah and the Throne of Glass series have been at the forefront of YA fantasy since the first book was published in 2012, and now she continues to lead with this first colouring book for a YA series," Bloomsbury Children US editorial director Catherine Onder said in a press release.
"I, along with millions of fans, can't wait to see the characters and scenes come to life on the page," she added. The publisher owns the world rights of the "Throne of Glass" coloring book.
"Throne of Glass" is the first book in the book series of the same name. Maas was only 16 when she started plotting Celaena's tale of honor and courage that she did not imagine will become a New York Times bestseller. The rest of the installments in the saga are "Crown of Midnight," "Heir of Fire" and "Queen of Shadows."
An untitled fifth novel in the series is in the works and will be released along with the "Throne of Glass" coloring book scheduled on September next year. In the press release, Maas expressed extreme happiness as she stopped and looked back to see how far her novel has come.
"I am so unbelievably ecstatic to see the world of Throne of Glass come to life like this!" the author said as quoted in the press release. Maas then went on to recount the days when she was just starting to put the book together.
The writer recalled that "Throne of Glass" was originally positioned as a Cinderella fairy-tale, not forgetting about the moment a little girl sitting next to her on a plane gave her a page from her Cinderella coloring book she already colored.
"At the time, TOG was a Cinderella retelling (now it's only got a few nods to it here and there), and I was wishing and hoping and working my butt off to one day get it published," she shared.
"So, when I got off that plane, I kept the coloring book page she'd given me as some sort of weird sign from the Universe that I was on the right path toward making my dream come true," Maas related.
Maas' young adult series is indeed a massive hit. According to The Bookseller, not only did her titles land her a spot on the Waterstones Children's Book Prize 2013 shortlist, the sales of the books are close to crossing the £800,000 mark.
The release of a coloring book based on "Throne of Glass" feels "really, really surreal and a bit full-circle" to Maas. Unable to fully express her excitement, she resorted to teasing fans about the arrival of the project.
related:
© 2015 Books & Review All rights reserved.
TRENDING ON THE WEB