US Women's Olympic Soccer: Hope Solo Opens Up About Struggles in New Autobiography
Books & Review
Updated: Aug 13, 2012 04:23 PM EDT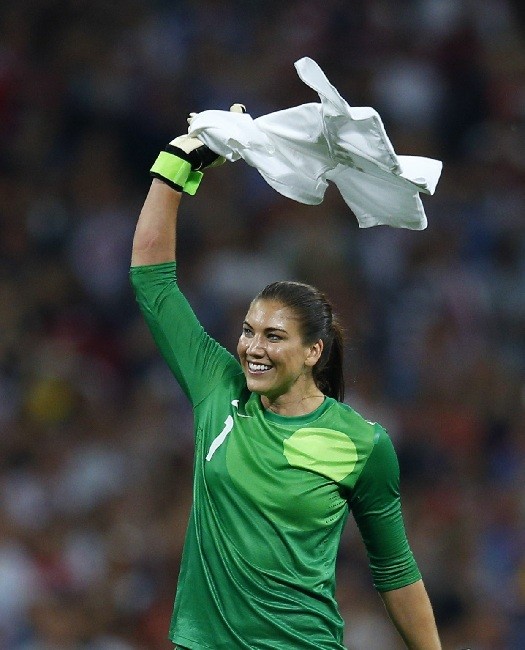 She may have won gold, and America's hearts at the London Olympics, but US Women's soccer goalkeeper Hope Solo didn't always make it all look so easy. In "SOLO: A Memoir of Hope," due out Tuesday, Solo recounts the scabs, hardships, and triumphs of her storied career -- including an incident where she was benched during the semifinals of the 2007 World Cup.
Born in 1981, after her mother became pregnant during a conjugal visit with Solo's father in prison, Solo details everything from years of "erratic, self-destructive behavior," to the harrowing experience of losing her father just two months before the 2007 World Cup and, about that subsequent benching by her coach prior to the 2007 World Cup match up with Brazil, and how she felt her teammates and coaches treated her in her time of grief.
Solo writes of the entire course of events at the World Cup, which was held in China, detailing her experiences with impressive vulnerability, including the fact that she refused play matches until she had spread tiny bits of her father's ashes on the field, which she smuggled onto the field in her goalie gloves.
Saving some of her harshest criticisms for former US Women's soccer coach Greg Ryan, Solo alleges Ryan decided to bench her for the Brazil match after he consulted with team veterans, including Kristine Lilly and Abby Wambach. She writes that during a meeting with Ryan, he pushed her back onto a couch as she tried to leave.
She analyzes the following 72 hours, her confrontation of Lilly and Wambach, among others, and explains the background that led to her famous postgame quote after the Brazil loss, where she said: "It was the wrong decision. And I think anybody that knows anything about the game knows that. There's no doubt in my mind I would have made those saves. And the fact of the matter is, it's not 2004 anymore. It's not 2004. It's 2007, and I think you have to live in the present."
In a new book, which will be available as part of the e-book, Solo also wrote an epilogue from the 2012 Olympics. In it, she writes about how U.S. coach Pia Sundhage asked her to delay publication of the book, threatening to not play her in the Olympics if it came out prior to the Games.
Solo tosses in pinches of her feelings regarding the 1999 US team, which won the World Cup, and was seen as the best American women's soccer team ever. She recalls the tremendous shadow the team's reputation cast, and the division she felt between players from that era and her own, some of which she thought contributed to her benching in China.
Some of that animosity bubbled up at the 2012 Olympics, where Solo criticized Brandi Chastain, a member of the 1999 team who was commentating for NBC. Solo prodded Chastain on Twitter for not supporting the American team enough, and for being too negative.
But Solo finished swift, especially in the Olympic final, where she had several remarkable saves. Wambach, whom Solo had confronted five years earlier at the World Cup in China, said: "You can't go without saying that Hope saved the day. Literally. Five times."
related:
© 2015 Books & Review All rights reserved.
TRENDING ON THE WEB