Halle Berry Racially Transforms, Time Travels in 'Cloud Atlas' (New Trailer)
Books & Review
Updated: Sep 14, 2012 04:16 PM EDT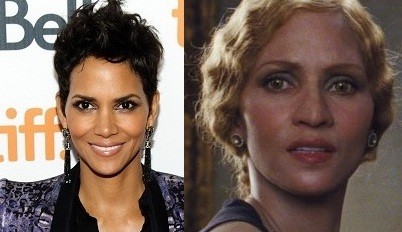 At this point, if you know about "Cloud Atlas," you know the mind-bending story. The latest from directors the Wachowski siblings ("The Matrix" trilogy) and Tom Tykwer ("Run Lola run"), the film is an epic story that spans centuries, within which individual characters are reborn. Many of the leading actors in the film portray several different people in different eras, with different hair color, and sometimes appearing as a different race, even gender.
Based on the sprawling, complex book of the same name by David Mitchell, the film casts Halle Berry, who is biracial, and Chinese actress Xun Zhou in some race-bending roles. Both of them portray white women at two different points in the epically long two-hour and 44-minute cinematic journey. Incidentally, South Korean actress Doona Bae -- who is getting a lot of buzz for her performance in "Atlas" -- also transforms into a white woman at a certain point.
Berry plays a litany of characters in the film, but the white woman she portrays is Jocasta Ayrs, a not-so-true, rather kinky wife of a composer (Jim Broadbent).
And Zhou's white character is the wife of Tom Hanks in the far future when the world has gone to hell.
Along with crossing racial lines with the help of heavy makeup -- and in some instances prosthetics and eye contacts -- Hugo Weaving and James D'Arcy bend their genders by playing women. Weaving is said to be especially memorable as the evil Nurse Noakes.
And Berry takes it even a step further --she plays an old Korean male doctor at one point in the film. To make all the race-bending more fun, Jim Sturgess also transforms into an Asian character.
With all the themes of the fluidity of time, gender, and race echoing through "Cloud Atlas" you have to wonder if any of it was influenced by Lana Wachowski. Formerly Larry Wachowski, Lana transitioned genders sometime between early 2003 and 2008. Lana has not officially addressed her gender transition as the Wachowski's traditionally shun media interviews, and did not make her first public appearance as a women until she appeared in a promotional video for "Cloud Atlas."
"I did feel some responsibility to the LGBT people, and a lot of people have been asking me to be more public," Lana said, but explained the siblings' dilemma. "We love anonymity, we love privacy, we don't think celebrity does much to improve your life. It was a big decision, and it took a lot of years, but we have this movie, and a new sibling [pointing to Tykwer] who loves to do press." She explained that a compromise was struck between their "no press" rule and Tykwer's love of speaking to the media. "He can't do enough press, our media-whore brother" she joked. "So we came up with this middle of the road [decision about doing press]."
Something of a mutual admiration society, the Wachowskis loved Tykwer's "Run Lola Run," and like many filmmakers, Tykwer adored the mix of entertainment and complexity in "The Matrix." The three had been hoping to work together for years, but it wasn't so simple.
"We met, the three of us, it was something like a magical meeting. It was love at first sight," Tykwer explained, at Toronto International Film Festival. "Directors never meet."
The trio had hit it off, but then every time they tried to meet up, one of the two sides was starting a new project. The solution became finding a project they could direct together. Then "Cloud Atlas" fell into their laps thanks to Natalie Portman, who was reading it on the set of "V For Vendetta," a movie the Wachowskis produced. After reading it, all three members of this unlikely triad were hooked.
"It was the most exciting novel we've read in a long time," Tykwer said of Mitchell's novel. "It also had [elements] in it that seemed to invite us to make a joint experience." Dense, complex and potentially unfilmable, the trio made a pact. "We swore an oath that we would adapt it only if we could make it work in a way that the author -- who we so admire and respect -- likes and loves. So we gave it a first try."
"Cloud Atlas" features an impressive international cast including Tom Hanks, Halle Berry, Jim Broadbent, Hugo Weaving, Jim Sturgess, Doona Bae, Ben Whishaw, James D'Arcy, Zhou Xun, Keith David, David Gyasi, Susan Sarandon, and Hugh Grant.
Much of the media has wanted to know how to classify the film, wondering if the team were creating a blockbuster, an arthouse film or something in between. The answer? None of the above.
"One of the things that unites us very profoundly is the idea that something can be crazy and experimental, mind-opening and yet still popular," Tykwer said. "And the [type of] cinema we loved... and made us want to make movies, did [many things like that]. [Those films] had the potential to involve you on many levels... [you would be] be struck by its ideas, and yet be hugely entertained. And those are the films we want to make."
Lana Wachowski said Mitchell saw the movie and loved it. "You do this amazing thing where you take highbrow ideas and lowbrow, entertaining narrative motifs, and combine it into a one-brow experience," she recalled Mitchell telling her. "We try to make monobrow movies. We don't like commercial, market-driven thing of splitting movies into arthouse and mainstream."
Halle Berry said she was grateful that the directors thought of her, and she jumped in immediately. "What I take away from this experience, Lana and Andy speak as one person, their thoughts are the same, they've talked about this so long that the vision is clear. So there was a safety with that."
related:
© 2015 Books & Review All rights reserved.
TRENDING ON THE WEB