'Fifty Shades of Grey' Movie Excites Alexander Skarsgard, 'True Blood' Star Thinks He's Perfect Fit
Books & Review
Updated: Nov 12, 2012 10:52 AM EST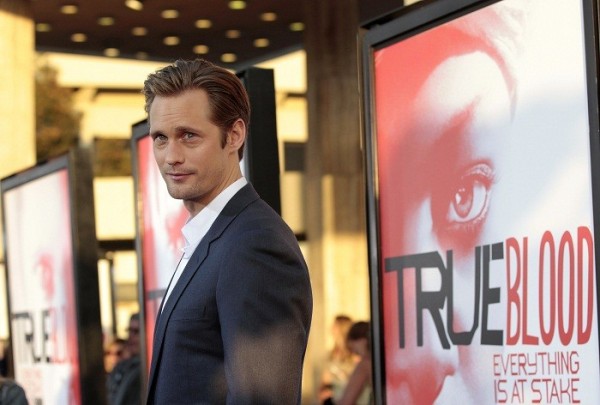 The film adaptation of E.L. James's breakout erotica trilogy, "Fifty Shades of Grey," continues to seduce a-list actors who want to star in the leading roles. Alexander Skarsgard, star of HBO's "True Blood," has topped many fan wish lists as the top choice to star as sultry sadist Christian Grey, and while some have deemed the actor, "too good" for the role, Skarsgard says he's definitely attracted to the movie, and would be perfect for the part.
'Fifty Shades of Grey' Success Sparks Two-Book Deal for 'Twilight' Fan-Fiction, 'Beautiful Bastard'
In a recent interview, the "True Blood" star revealed he's very intrigued by the movie version of James' hugely popular books, and thinks he would fit in Christian's skin with the comfort of a latex onesie.
"I know it's a very big, high-profile project, so of course it's flattering that there are people who would like to see me do it," said Skarsgard to Dailychilli.com.
"At the same time, it's difficult to say it's something you want to do or not because I don't think there's a script-at least I haven't read a script," he admitted.
While the film version of "Fifty Shades of Grey" is expected to maintain all the salacious kink of the novel, turning off more demure actors, Skarsgard says he's not anxious at all about playing Mr. Grey, if he is indeed offered the part. The actor says he's totally comfortable filming sex scenes and getting in compromising positions.
Responding to whether or not the idea of explicit sex scenes turned him off from the role, Skarsgard responded, "[Sex scenes] don't bother me at all. I don't find it uncomfortable or difficult at all. Relax, enjoy and have fun with it. That's my trick."
Sounds like Skarsgard is ready and willing to take on the Red Room of Pain to us.
"That wouldn't be an issue. I have a sex chamber in my basement-- my character on 'True Blood [does]-- so I've had training," said the actor.
Kellen Lutz, Ian Somerhalder, Ryan Gosling, Christian Bale, Matt Bomer, Robert Pattinson, and even Justin Beiber are among many actors' names that have already been mentioned in casting the leading role of Christian Grey, a troubled businessman who seduces an innocent college graduate called Anastasia Steele.
Since being published last year, "Fifty Shades" has become notorious for its explicit sexual content and controversial portrayal of a relationship involving BDSM. The novel has sold more than 30 million copies in the U.S., and more than 10 million copies to British readers, making James' book the UK's fastest-selling book of all time. All three books from James' trilogy have remained in the top five of The New Yorks Times' bestsellers list for over three months.
James' books have become such a widespread phenomenon, the author was chosen as one of Time magazine's "100 Most Influential People in the World" in 2012.
According to New York Daily News James has "input in everything," including casting, on the film version. "I think it was part of the agreement when she sold the book," said an unnamed source.
"Terra Nova" co-creator Kelly Marcel, will write the screenplay for the movie version of "Fifty Shades of Grey," according to Focus Features.
Marcel should be a perfect fit. She's already tried her hand at erotica. The "Fifty Shades" screenwriter got her start in musical theater with the British version of "Debbie Does Dallas, the Musical."
related:
© 2015 Books & Review All rights reserved.
TRENDING ON THE WEB