Elizabeth Smart Writing Memoir About Abduction, Her Foundation with Utah Congressman Elect Chris Stewart
Books & Review
Updated: Nov 24, 2012 03:20 PM EST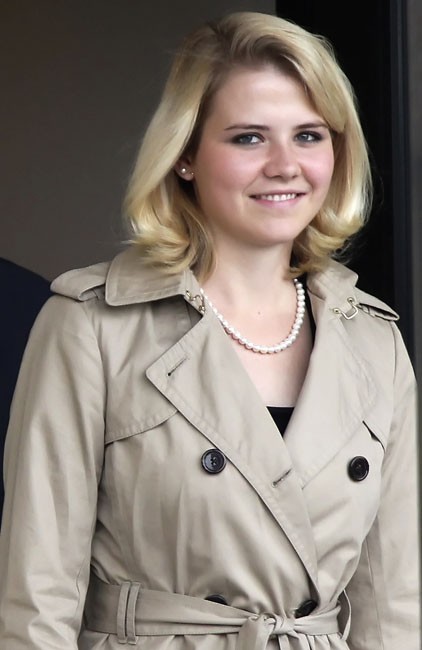 Ten years after religious fanatics abducted her while sleeping in her Utah bedroom and held her captive for nine months, Elizabeth Smart is finally ready to tell her story in her own words. St. Martin's Press has bought the rights to publish the now 25-year-old Smart's memoir, which she will write with Utah congressman-elect Chris Stewart.
On June 5, 2002, a then 14-year-old Smart was kidnapped at knifepoint by onetime homeless preacher Brian David Mitchell, authorities say. Police recovered the teenager nine months later March 12, 2003, when they spotted her walking along a busy street in Sandy, Utah - just 18 miles from her home - with Mitchell and his wife Wanda Barzee, reported The Associated Press.
Mitchell was eventually convicted of sexual assault and kidnapping, for which he is serving two life sentences at a prison in Arizona. Barzee is serving a 15-year sentence.
During her captors' trial, Smart testified to being threatened, tied up, and raped daily while she was under their control, reported the Daily Mail.
Stewart said Friday that Smart has made a surprising recovery from the brutal experience.
"She has taken a professional outlook on this and is able to talk in an impressive way about these things frankly," Stewart told The Associated Press. He said parts of her book would receive "appropriate" but not "salacious" treatment.
"She's not shying away from this story," he said.
Smart says she waited for the March 2011 sentencing of Brian David Mitchell before telling her story, which has reportedly been in the works for nearly a year.
The book won't just focus on Smart's captivity, but also will depict how she organized the Elizabeth Smart Foundation and brought more attention and law enforcement techniques to the cases of missing and abused children, said her publicist Christopher Thomas.
"She started the foundation to get her message across, and book was another way to do it," Thomas said.
Smart's first book will be the fourth overall about her infamous kidnapping that dominated national headlines.
The first book to cover the case was "Held Captive," thrown together and published just months after police found Smart. Then came her parents' bestseller, "Bringing Elizabeth Home: A Journey of Faith and Hope."
Next, was "Plain Sight: The Startling Truth Behind the Elizabeth Smart Investigation," by news photographer Tom Smart - the girl's uncle - and Lee Benson, a columnist for the Deseret News of Salt Lake City. The book followed the police and FBI investigations that initially ignored the eyewitness account of Smart's 9-year-old sister, who identified Mitchell as a former handyman that had worked at the Smart home. The book also delved into Mitchell's disturbing religious beliefs.
"We never talked to Elizabeth about our book," said Tom Smart. "We did not want to tell her story. We want her to tell her story."
related:
© 2015 Books & Review All rights reserved.
TRENDING ON THE WEB