Stephen King's 'Mr. Mercedes' Wins Prestigious Edgar Award
Books & Review
Updated: May 01, 2015 06:00 AM EDT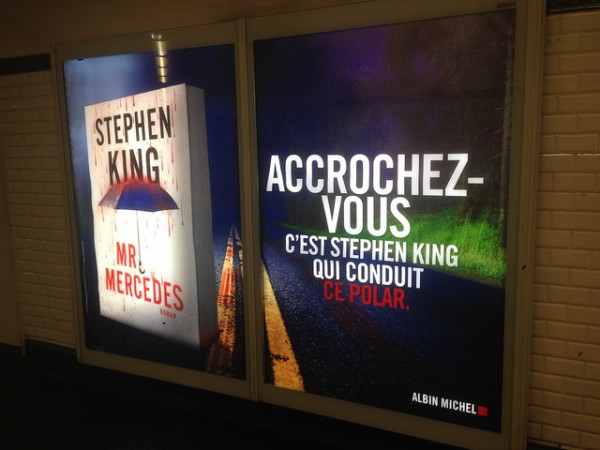 Stephen King The master of horror won his first-ever Edgar Award for his novel "Mr. Mercedes." King bested writers who are more identified with crime and suspense genre, Ian Rankin, Stuart Neville, Wiley Cash, and Karin Slaughter.
According to The Guardian, King can now add the Edgars to his long list of awards and accolades that spans over four decades. Rankin, tweeted a funny acknowledgement of his competitor's achievement. "Well, on the minus side I didn't win the Edgar award - some young ruffian called Stephen King did. On the plus side ... I got to meet Mr. King," Rankin said in a tweet after the presentation of the awards last Apr. 29 in New York City.
Another contender for the Best Novel award, Stuart Neville also tweeted about King's win. "I didn't win the Edgar, but I got to meet @StephenKing, who was very gracious in tolerating my fawning," his tweet reads.
"Mr. Mercedes" is about Bill Hodges, a down-and-out cop who recently retired from the police, and a man who shot eight people in the street that goes by the name of "Mr. Mercedes." With just barely six months into his retirement, Bill Hodges received a taunting letter from the killer, prompting the cop to investigate the unresolved shooting on his own. The novel received generally positive reviews when it was released in June 3, 2014.
The idea of the novel was first announced by the author during his Chancellor's Speaker Series at the University of Massachusetts Lowell in 2012. King indicated that he was in the process of writing a crime novel which was originally intended to be a short story. Earlier this year, it has been announced that "Mr. Mercedes" is set to be adapted for television, with "Lost" director Jack Bender at the helm. The novel is also intended to be part of a trilogy, and in a letter published in his official website, the author confirmed that the sequel, "Finder's Keepers" will be out this year.
King, 67, whose most notable works include "Carrie," "The Shining," and "The Green Mile," deviated from his usual horror and paranormal genre and decided to delve into some serious crime-thriller action in "Mr. Mercedes." His efforts paid off, as this got him his first Edgar Award Best Novel trophy.
Other winners of the Edgar Awards include Gillian Flynn's "What Do You Do?" (Best Short Story), Tom Bouman's "Dry Bones in the Valley" (Best First Novel), Chris Abani's "The Secret History of Las Vegas" (Best Paperback Original). See the complete list of winners here.
The Edgar Awards, named after the most recognizable mystery and thriller writer Edgar Allan Poe, is organized by the Mystery Writers of America and is considered a prestigious award among writers of the genre for sixty years.
related:
© 2015 Books & Review All rights reserved.
TRENDING ON THE WEB