'Fantastic Beasts and Where to Find Them' Movie Cast News: Eddie Redmayne May Star in 'Harry Potter' Spinoff Film
Books & Review
Updated: May 14, 2015 06:00 AM EDT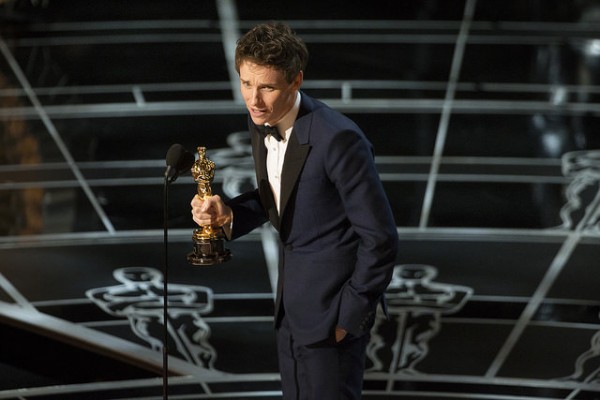 Eddie Redmayne, who won his first Oscar after being nominated for the first time for his role as Stephen Hawking in "The Theory of Everything," may return to the big screen in another memorable role.
After the bold announcement from Warner Bros. about plans on making a trilogy of movies based on the "Harry Potter" spinoff "Fantastic Beasts and Where to Find Them" comes the latest news that Redmayne, 33, may possibly play the lead role. Entertainment Weekly reports that the actor is currently in talks with representatives from the production outfit about playing the role of Newt Scamander on what Warner Bros. calls a "mega-movie" franchise.
The trilogy of movies will be "Harry Potter" author JK Rowling's debut in screenwriting. Based on the fictional Hogwarts textbook, which was also released in 2009, the storyline for "Fantastic Beasts and Where to Find Them" centers on the textbook's author, Scamander, an animal researcher from New York, who lived seventy years prior to the events in the Potter series.
Scamander, whose presence has been felt from the beginning of the "Harry Potter" movies, was a former headmaster of Hogwarts. Rowling also revealed recently that Scamander was a Hufflepuff through her Twitter conversation with a fan.
The role of Scamander is reportedly one of the most coveted lead roles among the upcoming movie franchises after Warner Bros. announced that aside from the trilogy, "Fantastic Beasts and Where to Find Them" may also appear as new theme park attraction at Universal Studios, according to NY Times.
Rowling said the movies will not serve as a prequel to the Harry Potter books, but will serve as "an extension of the wizarding world," says another report on Entertainment Weekly. "The laws and customs of the hidden magical society will be familiar to anyone who has read the Harry Potter books or seen the films, but Newt's story will start in New York, seventy years before Harry's gets underway," the author added.
In an earlier report from Entertainment Weekly, Rowling revealed that it was Warner Bros. CEO Kevin Tsujihara who convinced her to extend the Potter franchise beyond the familiar characters that fans have loved over the years.
"When I say he made Fantastic Beasts happen, it isn't P.R.-speak but the literal truth," Rowling said in a statement. "We had one dinner, a follow-up telephone call, and then I got out the rough draft that I'd thought was going to be an interesting bit of memorabilia for my kids and started rewriting!"
There has been no confirmation from Warner Bros. or Redmayne, regarding the role of Scamander.
related:
© 2015 Books & Review All rights reserved.
TRENDING ON THE WEB