Barack Obama's Book List: What's the President Reading this Summer?
Books & Review
Updated: Aug 14, 2015 06:54 AM EDT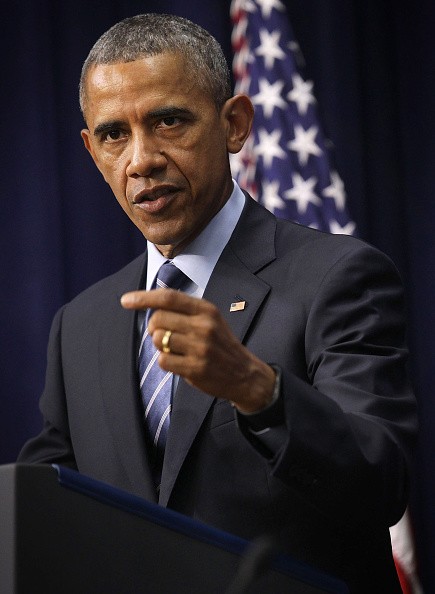 Whenever summer comes, book lovers come up with reading lists that work best for vacation trips and pastime.
The Obama family is going for a two-week vacation in Martha's Vineyard. According to ABC News, here are the books that the president packed for the trip:
"All That Is" by James Salter
James Salter passed away just last June, but his legacy eternally lives in bookshelves and, apparently, in presidential reading lists.
In this book, Salter writes about a story set after the World War II. The tale shows Salter and his experiences as a naval officer, a writer and a man in love.
"All the Light We Cannot See" by Anthony Doerr
Doerr's book gives another glimpse of history. It has won the awards 2015 Pulitzer Prize for Fiction and the 2015 Andrew Carnegie Medal for Excellence in Fiction.
In this historical fiction novel, the fates of a blind girl in Paris and an orphaned boy in Germany somehow intertwined in Saint-Malo.
"The Sixth Extinction" by Elizabeth Kolbert
"The Sixth Extinction" not only made the president's reading list, it has also been selected under "The New York Times Book Review's 10 Best Books of 2014."
The book explores how human beings have changed the planet Earth like no species have. The book also tells about the five mass extinctions that occurred before, and the sixth extinction that might happen.
"The Lowland" by Jhumpa Lahiri
The novel, set in both India and America, depicts the story about two brothers who suffered from tragedy, a woman and her haunting past and a revolution tearing the country apart.
Two inseparable but opposite brothers separate paths as one follows his passion for politics and one chooses a quiet life of pursuing science. The story also explores love, with all its different kinds, which goes beyond death and last a long time.
"Between the World and Me" by Ta-Nehisi Coates
"This is your country, this is your world, this is your body, and you must find some way to live within the all of it." This line from the book summarizes what it's all about. From big questions in history to recent issues in the country, the book covers it all.
The story is all about a father who wants to answer all these questions for his son. Through his experiences in studying to witnessing battles in the Civil War, the father tries to narrate and relive history in a different perspective.
related:
© 2015 Books & Review All rights reserved.
TRENDING ON THE WEB