'Winds of Winter' Release Date: George RR Martin Hints At Spring 2016 Publication of Latest 'Game of Thrones' Title?
Books & Review
Updated: Oct 30, 2015 06:19 AM EDT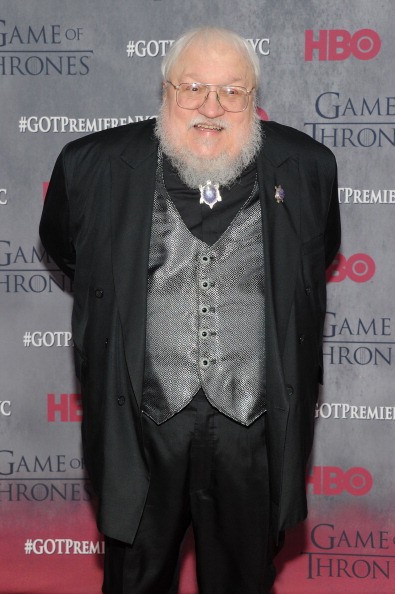 "Winds of Winter," the sixth installment in George RR Martin's bestselling saga "A Song of Ice and Fire" series, still has no release date. The author himself long promised he will personally be the one to announce when the book will be out the moment he finishes it, but it also looks like he is dropping some clues for fans to pick up and figure it out instead.
Independent believes that the teaser for the next episode of Syfy series "Z Nation," which features a zombified Martin signing copies of a book titled "A Promise of Spring" as a parody, is more than just a promotion of the installment the author will be in.
The aforementioned site believes that the spoof of the book is no accident and in fact, could be a hint of when "Winds of Winter" will hit the shelves. The tome may indeed be the promise of Martin that he will be able to have it published by spring. Of course, the site recognizes the possibility that it doesn't mean anything at all.
Right now, fans, who are entering the fifth year of the waiting game for the book, are thirsty for any bit of information which will help them calculate how many more days, weeks or months they have to wait before they get a hold of a copy of "Winds of Winter."
The general belief is that the book will be out before season 6 of the HBO hit series "Game of Thrones," adapted from Martin's books, will premiere. It was being presumed that by April, which is always the month the show premieres, new episodes of the ratings behemoth will trickle in.
However, there's news that followers of the series adaptation will have to wait a little longer to know what happens next in Westeros. According to Huffington Post, "Game of Thrones" season 6 will take longer than usual to get to the small screen, if HBO's released schedule for early next year is any indication.
The network has recently announced that its new rock and roll drama series "Vinyl" starring Martin Scorsese, Terence Winter and Mick Jagger will premiere Feb. 14 and will air Sundays at 9pm ET, which is the timeslot for "Game of Thrones." HBO's two other shows "Girls" and "Togetherness" are airing right after "Vinyl" starting Feb. 21.
The aforementioned shows of the network, assuming they take no breaks, should wrap up Apr. 17 and Apr. 24. Fans may recall that "Game of Thrones" typically premieres in April and is often paired with "Silicon Valley" and "Veep," not "Girls" and "Togetherness."
Unless HBO switches the timeslot of its award-winning show, fans can expect "Game of Thrones" season 6 to premiere by May - May 8 being the earliest. Sadly, there's no way to confirm since HBO told Huffington Post that there is still no release date locked in for "Game of Thrones" season 6.
In the face of the probable delay of the show, fans find a ray of hope in the possibility that Martin, who is rumored to complete the book before the show premieres, may have asked the network to move the date to avoid spoiling the book.
related:
© 2015 Books & Review All rights reserved.
TRENDING ON THE WEB