Small Business Saturday 2015: Here Where The Obamas Visited
Books & Review
Updated: Nov 30, 2015 09:56 AM EST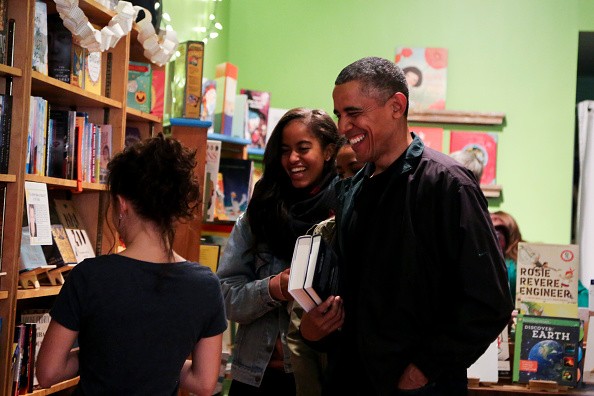 U.S. President Barack Obama took his two daughters Malia, 17 and Sasha, 14, book shopping around Washington, D.C. in celebration of Small Business Saturday. For this year, they visited Upshur Street Books, an independent bookstore in Northwest Washington. The family chose titles with the help of Store Manager Anna Thorn. Visiting local shops for Small Business Saturday has been an annual tradition for the family.
According to CNN, this is the first time the family visited Upshur Street Books. For the past three years the Obamas had done their holiday book shopping in Politics and Prose, another independent bookstore in Washington, D.C.
Among the nine chosen books are three young adult novels by Cynthia Voigt, a book by Jonathan Franzen that, according to the New York Times, features a character reminiscent of whistleblower Edward Snowden and WikiLeaks co-founder Julian Assange and lastly, controversial writer Salman Rushdie's latest novel "Two Years Eight Months and Twenty-Eight Nights: A Novel" published in September. According to NDTV, fans and media have interpreted this move of buying Rushdie's novel as the President's show of support to the writer though some have commented that there was nothing political about it and that the book is simply "a good read."
After the book buying session, the Obamas headed to Pleasant Pops Cafe for some sweets. Malia got herself a cookies and cream pop, while Sasha opted for a cranberry apple. The President chose strawberry ginger lemonade, a store favorite.
"This was the highlight of my Small Business Saturday," the President told Reuters.
Small Business Saturday is an annual event initiated by credit card company American Express. It held every Saturday after Thanksgiving to encourage shoppers to support local business.
Upshur Book Street opened in Upshur Street in the residential area of Petworth in Washington, D.C. on Nov. 1, 2014. The neighborhood bookstore owned by Paul Ruppert is a community driven space that has been "invested in Petworth and in promoting DC culture -- from literature to food, music, theater, and art." According to its website, the bookstore offers a selection that reflects the bookseller's and the community's taste.
The complete book list is as follows:
"Purity: A Novel" by Jonathan Franzen
"Two Years Eight Months and Twenty-Eight Nights: A Novel" by Salman Rushdie
"Elske: A Novel of the Kingdom" by Cynthia Voigt
"On Fortune's Wheel" by Cynthia Voigt
"Jackaroo: A Novel of the Kingdom" by Cynthia Voigt
"A Snicker of Magic" by Natalie Lloyd
"Stargirl" by Jerry Spinelli
"Diary of a Wimpy Kid: Hard Luck, Book 8" by Jeff Kinney
"Dork Diaries 1: Tales from a Not-So-Fabulous Life" by Rachel Renée Russell
related:
© 2015 Books & Review All rights reserved.
TRENDING ON THE WEB