'Fifty Shades of Grey' Author E.L. James Confirms New Erotica Book?
Books & Review
Updated: Sep 18, 2012 12:23 PM EDT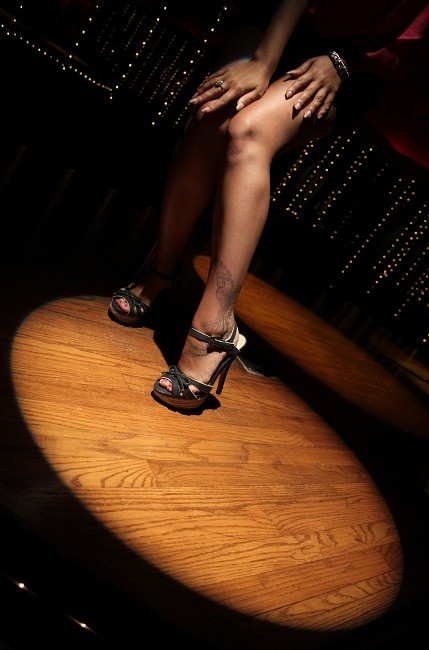 It seems E.L. James may have grown tired of "Fifty Shades of Grey." While many fans are still begging for a fourth book in the "Fifty Shades" series, James admitted in a Sept. 17 interview that she's shifted her writing focus from the books for now, and is currently concentrating on writing a new erotic tale.
The British author, who's currently on a book tour in the United States, said she's rewriting the first book she ever wrote because she just can't seem to shake the plot line and characters from her mind.
"It's still in my head. I want it out of my head. I want it gone," said James, who wouldn't reveal much about the story, other than it's an "erotic tale" that is "more fun" than the trilogy.
James also let details slip about another book she'd like to write in the future, which the author says gives her a chance at writing in a new genre.
"I also have another thing, which isn't an erotic tale. It's more of a paranormal romance, which I'd really like to do as well."
James also revealed on Monday that while she's currently focused on writing new material, she hasn't ruled out writing a fourth book entirely for her hugely-popular "Fifty Shades" series.
James' trilogy "Fifty Shades of Grey," "Fifty Shades Darker," and "Fifty Shades Freed" follows the racy romance between Anastasia Steele and Christian Grey, a handsome multi-millionaire who introduces her to the erotic pleasures of BDSM (Bondage, Discipline, Domination/Submission, Sadism/Masochism).
James said that when she finished the third book, she felt she had completed the couple's tale, saying "I left them in a really, really good place. But there seems to be lots of people clamoring for a fourth book in the trilogy," said James, whose books have become a publishing sensation, so far selling 31 million copies worldwide.
When asked about a fourth book, she replied, "We'll see."
First, she said, she'd like to complete the other projects, saying, "There's lots of voices clattering in my head."
James made her comments at a media event in New York City where she promoted the release of "Fifty Shades of Grey: The Classical Album," a 15-track compilation featuring classical pieces that inspired her while writing the book, and are referenced in the trilogy. The CD, which includes the "Flower Duet" from Lakmé, Pachelbel's Canon in D and the aria from Bach's Goldberg Variations, comes out today, Sept.18.
According to James, she almost always listens to music while writing. In part because she writes in the living room, and must drown out the sound of her two teenage sons watching television. But also because "music is so expressive (and) it can help set a scene," she said, adding she has a lengthy playlist that she turns to for inspiration.
When it comes to penning steamy sex scenes, james divulged in recent interviews that she likes "Sexy" by the Black Eyed Peas, or Bruce Springsteen's "I'm on Fire." The partnership between EMI Classics and Random House is believed to be the first time that a CD's release has been inspired by a book. Normally, soundtracks are only released in conjunction with films.
Since being published last year, "Fifty Shades" has become notorious for its explicit sexual content and controversial portrayal of a relationship involving BDSM. The novel has sold more than 30 million copies in the U.S., and more than 10 million copies to British readers, making James' book the UK's fastest-selling book of all time. All three books from James' trilogy have remained in the top five of The New Yorks Times' bestsellers list for over three months. The first book is currently being adapted into a film by Universal and Focus Features.
Ryan Gosling, Christian Bale, Matt Bomer, Robert Pattinson, and recently, even Justin Beiber, are among many actors' names that've been mentioned in casting the leading role of Christian Grey.
James has been tightlipped on confirming or denying any casting rumors. And while names like David Cronenberg, and Bret Easton Ellis have floated around for director and scriptwriter, as of yet, no one is confirmed.
related:
© 2015 Books & Review All rights reserved.
TRENDING ON THE WEB