Nokia Lumia 920 Release Date, Price, Specs: Verizon Carrier Leaked; Why Nokia Maps, Lumia 920 Will Crush Apple iPhone 5
Books & Review
Updated: Sep 22, 2012 12:25 PM EDT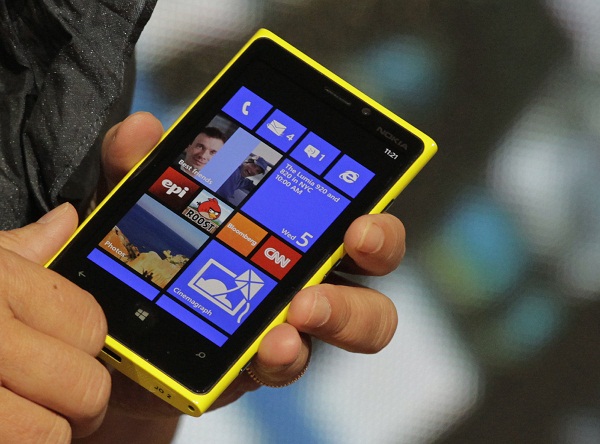 Nokia has not announced the release date of their new Lumia 920 Windows 8 flagship phone. However, new details emerged about the new smartphone.
According to Tapscape, the Verizon handsets list was leaked.
According to PhoneArena, they've gotten a list of handsets that Verizon will be including in its lineup and it appears that they're getting all of the top-tier Windows 8 phones:
"Verizon will be giving Windows Phone another shot by launching three WP8 smartphones. The Samsung ATIV S, the Nokia Lumia 920, and the HTC Windows Phone 8X are all listed on the leaked roadmap, with November penciled as a potential release time frame."
In terms of price, Tapscape reported that the Lumia 920 will sell for just a little above $500, based on pre-order prices.
"WMPoweruser reveals that Chinese online sites have begun pre-orders for the Nokia Lumia 920 and their asking prices are unbelievably low:
'Now we have reports via WeLoveWP.hk that the Nokia Lumia 920 is going on pre-order at Toaboa, China's largest online shopping site, for only 3,999 HKD (USD $512, £320). WeLoveWP confirmed from their sources that is real.'
There are also great Nokia Lumia 920 bundles on offer such as one that that will throw in an additional wireless charging pad and a bluetooth headset for a mere $700."
Apple has some huge competition. With their newly release iPhone 5, even though it set pre-order records and got the whole world hyped, many showed they would rather buy the Lumia 920 vs iPhone 5.
A Books & Review poll showed that, with 2,901 votes, users would buy the Lumia 920. The Samsung Galaxy Note 2, Samsung's "phablet," got 253 votes. And the iPhone5 got 147 votes. Boo.
The Examiner did a "multimedia showdown" between the iPhone 5, Galaxy S3, and the Lumia 920.
"The winner: It's hard to call, but it looks like the winner may be the Lumia 920," the Examiner concluded. They got this answer because of the Lumia 920's 8.7MP camera, which is said to be the most capable camera yet on a smartphone. Also, the PureView sensor has not only has optical image stabilization, but the latest generation BSI sensor. It also has a Carl Zeiss lens. The camera on the Lumia 920 is said to be an easy digital camera replacement, reported the Examiner.
Apple also ran into some problems with their new maps app. Many iPhone users are not happy and are complaining and frustrated over the new app.
The new maps app is a part of Apple new iOS 6 operating system, and replaced Google Maps. Apple said it was made completely in-house with data from TomTom. It is supposed to have 3D maps and turn-by-turn navigation with spoken directions, and also real-time traffic information, and ability to "fly" over an area and more.
Nokia maps is a huge competitor to Apple maps, as well as Google maps.
Nokia recently took a few jabs at Apple and Google on their blog Sept. 21, according to CNET.
"Unlike our competitors, which are financing their location assets with advertising or licensing mapping content from third parties, we completely own, build and distribute mapping content, platform and apps," the company wrote. "In other words, we truly understand that maps and location-based apps must be accurate, provide the best quality and be accessible basically anywhere. That's been standard practice at Nokia for the past six years, and we also understand that 'pretty' isn't enough."
It looks like Nokia definitely has a huge edge up against Apple maps, and it was recently revealed that many would rather buy Nokia's new flagship phone the Lumia 920 instead of the iPhone 5. The new phone is said to launch at an event Oct. 21, with a release date in November. The new Apple maps could bring more customers to Nokia.
The Lumia 920 runs on Microsoft Windows Phone 8. It takes many of the physical design elements from previous generations of Lumia handsets, but improves on internal hardware and display technology. Some of the new tech specs include PureMotion HD+ 4.5 inch display (1280 x 768 resolution), Dual-core 1.5GHz Snapdragon S4 processor, NFC chip, 2,000mAh battery, and Qi wireless charging. Nokia is touting the Lumia 920′s premier feature as its new camera lens, the Carl Zeiss lens. It has rounded edges and colorful covers with a PureView camera.
Related Articles
Lumia 920 Release Date: 4 Reasons Why Apple Maps Will Draw Many More to Nokia; Google Maps to Compete
Nokia Lumia 920 Release Date, Specs: Can HTC Windows Phone 8X Top Lumia 920? Both May Overshadow iPhone 5
Nokia Lumia 920 Release Date, Specs: Why Many Would Buy Lumia 920 vs iPhone 5; Can it Compete?
related:
© 2015 Books & Review All rights reserved.
TRENDING ON THE WEB