'Fifty Shades of Grey' Movie Casting News: 'New Girl' Star Carla Gugino to Play Mrs. Robinson?
Books & Review
Updated: Sep 24, 2012 12:08 PM EDT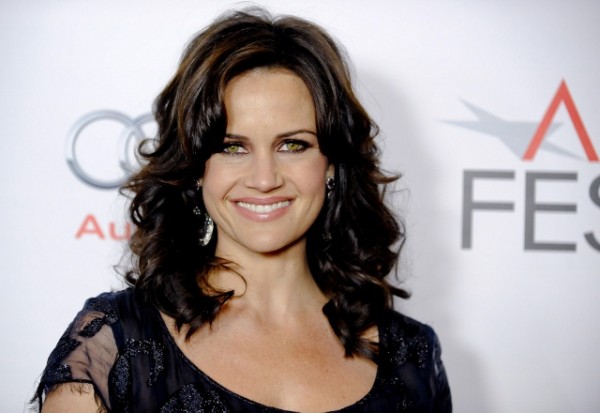 Fans already know who they want to play the two lead roles of "Fifty Shades of Grey," Anastasia Steele and Christian Grey.
However, there are other important supporting roles, such as Mrs. Robinson.
Elena Lincoln (whom Anastasia semi-jokingly dubs Mrs. Robinson) [SPOILER ALERT!!] was one of Christian's mother's close married older friends, and coaxed him into an affair with her.
Elena was Christian's first sexual experience and, according to him, introduced him to the world of BDSM by making him her submissive, which sparked teenage arousal in him. The affair lasted until he was 21-years-old when her husband found out, and although they are no longer sexual, they still remain close friends (until "Fifty Shades Freed").
"Political Animals" star Carla Gugino is now being considered for the role of Mrs. Robinson.
According to Entertainment Weekly, Gugino is now playing Schmidt's (played by Max Greenfied) sweet-seeming new superior who's actually a high-powered sex freak in season two of "New Girl."
"The two will engage in a Fifty Shades of Grey-esque relationship when Schmidt is forced to sign a contract that binds him to Emma," according to EW.
The contract is dubbed as a similar one that Christian gives to Ana to sign.
In terms of playing Mrs. Robinson, Gugino, 41, might be a good candidate for the role.
"Carla is a very captivating cougar. She's stripped down in Sin City; starred as a pregnant porn star in Elektra Luxx; and played a sexy superhero in Watchmen. So since she certainly has no problem with sex and violence, maybe she'd make the perfect "Mrs. Robinson" in the 50 Shades movie," GatherEntertainment reported.
It's no surprise that Greenfield would want to play the sexy billionaire Christian Grey.
According to E! Online, Greenfield revealed that nudity is not the issue in "Fifty Shades."
"Yeah, that's not a problem," the "New Girl" star told Giuliana Rancic during the Emmy's red carpet on doing full frontals for the part.
"That's not the issue. It's the issue of whether they wanna see that much intensity onscreen, because that's what I plan to bring."
In August, the 32-year-old actor said he would take on the role of Christian.
"I want to audition for the movie," Greenfield said in an interview with Celebuzz. "I think I'd be great in it."
Greenfield and Gugino have some fierce competition.
Many fan favorites are up for Christian Grey. They include Ian Somerhalder, Robert Pattinson, Matt Bomer, Henry Cavill, Colin Egglesfield, Jessie Pavelka, and Alexander Skarsgard.
For Mrs. Robinson, some actresses include Kim Cattrall, Elena Barken, Charlize Theron, Michelle Pfeiffer, Lena Olin, Angelina Jolie, Diane Lane, and Sharon Stone.
The "Fifty Shades" trilogy ("Fifty Shades of Grey," "Fifty Shades Darker," "Fifty Shades Freed"), written by E.L.James, tells the story of 22-year-old recent college grad Anastasia Steele, who enters into a dominant/submissive sexual relationship with 27-year old sexy billionaire Christian Grey, and both explore Christian's world of BDSM while trying to understand their complicated relationship.
So "Fifty Shades" fans, who do you think should play Mrs. Robinson and Christian Grey? Sound off below!
Click HERE to see who the front-runners are this week for Christian and Ana.
Click HERE to vote for Anastasia Steele!
Click HERE to vote for Christian Grey!
Vote for your favorite couples to play Ana and Christian HERE!
Related Articles
New Jack Reacher Book Thriller: 'A Wanted Man' by Lee Child Tops 'Fifty Shades of Grey'
'Fifty Shades of Grey' Movie Casting News: Robert Pattinson Hints at Christian Grey Role, Will Kristen Stewart Play Ana Steele? [TRAILER]
'Fifty Shades of Grey' Movie Casting: Lauren Watson Wants Ana Steele Role With Matt Bomer, Jessie Pavelka as Christian Grey
related:
© 2015 Books & Review All rights reserved.
TRENDING ON THE WEB