Author Chronicles Boy Band Experience, Phenomenon in 'New Kids on the Block: Five Brothers and a Million Sisters'
Books & Review
Updated: Oct 01, 2012 03:08 PM EDT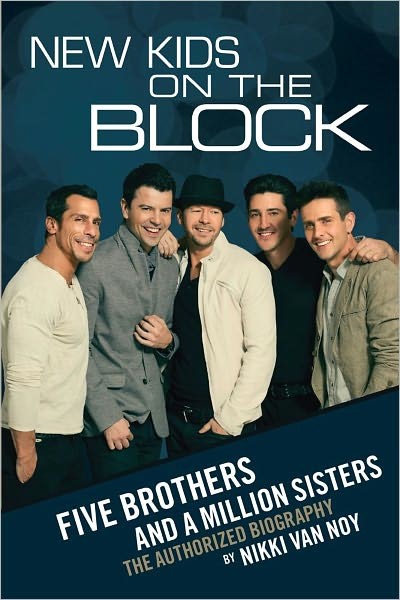 Let's get this straight -- there have been, are, and will continue to be boy bands.They are forces of nature. You cannot change this. Do not stand in their path. Do not question them. Like a hurricane, you will be destroyed or consumed by the raging storm.
In her new biography, "New Kids on the Block: Five Brothers and a Million Sisters" author Nikki Van Noy makes the argument that perhaps no other group embodies the phenomenon better than that titular boy band. Through anecdotes from over 100 fans and guys in the group themselves, Van Noy analyzes for how NKOTB affected people's lives.
Unlike many celebrity biographies, the members of NKOTB actually sound like they don't mind delving into embarrassing and revealing stories. Van Noy was as dedicated as the fans she covered in writing the book. She spent a year and half interviewing each guy one-on-one, as well as their parents. Perhaps that's because 34-year-old Van Noy counts herself among the throngs of adolescent girls who were pining for the band in the late '80s.
"There wasn't a publicist around. It was me and whatever guy I was talking to at the time. I can't tell you how refreshingly open and honest they were. They blew everyone else I ever interviewed out of the water," Van Noy said to Huff-Post Celebrity.
The group is good-natured about even its most awkward memories, like 1990's "Magic Summer tour," which was defined by cheesy stunts. "In 1990 I guess it was cool to be flying around the stage on wires, but I'm surprised Donnie agreed to be flying around," Joe McIntyre remembers in the book. "I'm surprised we agreed to bring big playing cards up and do a disappearing act."
In a similarly revealing passage, Donnie Wahlberg recalls being told by a promotional exec that his daughter no longer wanted to play their music at her parties because "the boys don't think it's cool," and reveals, "That stuck with me and drove me crazy." Van Noy says that even though the band's heyday was long before the age of Twitter rage and cyberbullying, they were nontheless aware of their detractors.
The book also touches on dark topics, such as Jonathan Knight's struggles with anxiety and depression and Jordan Knight's battle with booze, but doesn't linger there.
"We'd get to go and play in a lot of amusement parks and stay in hotels. I think that was the equivalent of us going to college. That must be what going to college is like: getting drunk, and stupid, and sex. All that stuff we never experienced in college, we experienced on the road, just the five of us."
"New Kids on the Block: Five Brothers and a Million Sisters," chronicles NKOTB's meteoric rise in the late '80s, disbanding following the inevitable backlash several years later and recent return to the pop-culture consciousness.
It may have been over 20 years since NKOTB released its seminal eight-times-platinum 1988 album, "Hangin' Tough," and subsequently topped Forbes' highest-paid entertainers list, ranking above Michael Jackson and Madonna. But since reuniting in 2008, the Boston-bred boy band have seen their website tick to 146 million page views, sold out a comeback show at Madison Square Garden in six minutes and earned the No. 2 spot in Time magazine's "Top 10 Comebacks of 2011" list.
NKOTB may have dropped off the cultural radar for many but the group has clearly maintained a rabid fan base. The group still has a paid fan club, "Block Nation," with 50,000 members and headlines an annual Carnival cruise, which has sold out for four consecutive years thanks to a largely female base of 30-somethings who spent their formative years devoted to Donnie, Danny, Joe, Jordan and Jon.
As part of her research, Van Noy attended their concert cruise, a seaborne excursion from Miami to the Bahamas that began in 2009.
"I think my jaw was dropped for the first three days," she said. "I had never seen anything like it. I had heard that the guys were really hands-on, but they're just walking around this boat of 3,000 people, filled with fans. To see that was sort of overwhelming -- there's so much excitement."
"You can't have a New Kids story without the fans," Van Noy told the Herald. "If you look at those articles from the '80s and '90s, there isn't a story about the New Kids that doesn't involve the fans. Seeing the fans come back in full force all those years later is a pretty crazy thing," she said.
"What really struck me with them over and over again (is that) they are so hands-on," Van Noy said. "They are in the minute details. That's something a lot people don't get about them. ... They are calling the shots. They are driving this and making decisions, and it's a true representation of them."
Van Noy points out perhaps the real reason the band still resonates for a specific demographic: NKOTB was the dominant boy band of its era, unlike the 90s, when you couldn't count every boy band on one hand. "For women of my age group, the New Kids were a common experience that most of us had during our adolescence," she says.
"This was kind of a touchstone of their youth. And this carefree, happy exciting time, to have it come back, 15 or so years later, when a lot of their fan base are married and have kids and full time jobs and are settled down -- there just seems to be this real sort of release where the New Kids are concerned, for them to go back to that younger time of their lives."
"New Kids on the Block: Five Brothers and a Million Sisters" by Nikki Van Noy is available tomorrow, Tuesday Oct. 2.
related:
© 2015 Books & Review All rights reserved.
TRENDING ON THE WEB