'Fifty Shades of Grey' Movie Casting: Top Six Contenders for Anastasia Steele Include Ashley Greene, Alexis Bledel, Kristen Stewart [POLL]
Books & Review
Updated: Oct 01, 2012 04:53 PM EDT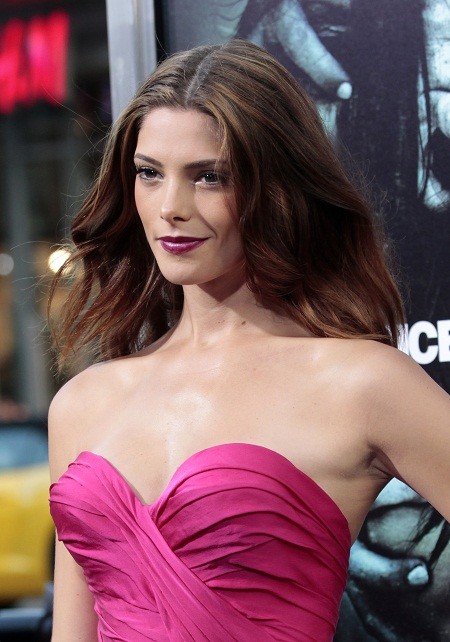 Reuters
Fans already know who they want to play Anastasia Steele in the upcoming "Fifty Shades of Grey" movie.
Books & Review decided to create a poll on the six most favorite stars that have been linked to the key role of Anastasia, but with some new contenders not included in last month's poll.
The "Fifty Shades" trilogy ("Fifty Shades of Grey," "Fifty Shades Darker," "Fifty Shades Freed"), written by E.L. James, tells the story of 22-year-old recent college grad Anastasia Steele, who enters into a dominant/submissive sexual relationship with 27-year old sexy billionaire Christian Grey, and both explore Christian's world of BDSM while trying to understand their complicated relationship.
The six favorite stars for Anastasia are "Twilight" Kristen Stewart, "The Worst Witch" Felicity Jones, Emma Watson, "Gilmore Girls" Alexis Bledel, "Twilight" Ashley Greene, and "Percy Jackson & the Olympians" Alexandra Daddario.
Felicity Jones, 28
Actress Jones, who started in movies "The Worst Witch," "Like Crazy," and "Chalet Girl" with Ed Westwick, has been linked to the role of Ana, and is a fan favorite also.
According to the Canberra Times, fans posted several YouTube tributes featuring Jones as their dream Ana.
She said, "I have been told," she says. Would she do it? "It would depend on the script. I wouldn't dismiss it. I love this idea of YouTube casting, or casting through Twitter. I think that's going to become more powerful."
Jones was picked as a fan favorite in July to play Ana Steele.
Kristen Stewart, 22
The "Twilight" actress has always been in the running for Ana Steele, partially since the Ana is based off of Stewart's "Twilight" character Bella Swan (now Bella Cullen).
The Bella actress recently spoke about playing Ana Steele in a recent interview.
Stewart talked to author Talia Soghomonian about the possibility of starring in "Fifty Shades of Grey."
"First of all, they haven't called me or anything, they haven't offered me the part. It's spicy. Yeah. I don't know, I haven't read the whole thing and it's also a highly coveted part everyone is trying to. But I'm pretty daring," Stewart said, according to HollywoodLife.
Stewart was the first to wanting the role of Ana. She was, in fact, the inspiration behind Anastasia.
In May, she said she would be up for the role no matter what type it is.
"But I'm dying to make another movie with Rob," Stewart in an interview with Celebuzz. "I think we're a good team, and whatever it is needs to be so ridiculously ambitious ... but I'd love to work with him again."
Later in May, she read an excerpt on MTV News with host Josh Horrowitz. Hollywood Life said, "She sounds amazing!"
She then admitted that she was reading the book.
Another commenter said, "Honestly i think Kristen Stewart. She can act, and the paleness." Another fan said, "Kristen & Robert are AMAZING actors! But I don't think they would fit well into this movie, but at the same time; it could expand their movie titles & reputation more well - rounded. Either way it go, I would SOO WATCH IT ! # TeamKristen&Robert!" Another said, "Stick with these two here they both look perfect for their roles as Christian and Ana."
Emma Watson, 22
This actress has also been a fan favorite since "Fifty Shades" talk has started.
It looks like she is letting "Fifty Shades" fans influence her about playing the innocent Ana Steele.
According to TheSun, Watson said she is aware the books are "quite raunchy" but has yet to read them.
"The thing is I haven't read any of the book because I haven't read a script so it's quite difficult to know what I'm turning down potentially but I hear it's quite raunchy," the 22-year-old actress said. "I mean if there's interesting character development and there's an interesting story then I would consider it - but I haven't been offered anything."
This is special news. The "Perks of Being a Wallflower" actress has been a part of the Ana buzz ever since fans have been shouting out their favorite stars.
In the beginning of September, it was revealed that Watson would play Ana is Christian Grey fan favorite Ryan Gosling was playing the lead role.
Ryan Seacrest tweeted, .@EmWatson told me she'd be far more interested in playing Anastasia in 50 Shades of Grey if Ryan Gosling plays Christian. #mugglelove."
According to E! Online, "The Vampire Diaries" star Nina Dobrev told Seacrest during an interview that Watson was nervous when reading the books.
"She's laughing, a little bit nervously as I'm sure everybody was when they read those books," Dobrev relayed to Seacrest during a phone call On Air on 102.7 KIIS FM. Dobrev costars with Watson in their upcoming movie "Perks of Being a Wallflower."
"She would be far more interested if he were playing Christian Grey," Dobrev continued about Watson's apparent infatuation with Gosling. "I guess that's all it takes."
In an interview with STV.TV in early September, Watson talked about "Fifty Shades of Grey," saying "I haven't read the book, so I don't know what I would be signing myself up for. So I would have to get sent a script I guess," Watson said. "But it always flattering that people are thinking about you for roles. You are in the mix for things so it's great."
According to People Magazine, Watson, 22, is said to be an "obvious choice" to play Ana. She has played the awkward, doesn't-know-she's-gorgeous role before.
Alexis Bledel, 30
This actress recently acknowledged her fans on Twitter who want her to play Ana.
"I see that lots of you wants me to play "Ana" in Fifty Shades of Grey. :)," Bledel wrote on her Twitter page. She won a past B&R poll, and is a big fan favorite.
Bledel won the last Ana Steele poll with 1,458 votes against Alexandra Daddario's 1,295 votes. She came from behind because she was in second place for weeks.
Although some might say she is too old for the role, many think she is perfect.
FansShare describe Bledel with "seductive blue eyes and a stance that binds awkward charm and sex appeal."
"The way Alexis enunciates and expresses herself is also not far from the way intelligent literature graduate Anastasia carries regular conversations."
Movie Pilot describes Bledel as a "spot on" resemblance to Anastasia, who has big blue eyes. "Not only is Bledel cute as pie, but she has Ana's sweet and innocent look down pat," Movie Pilot said. "She looks like she can blush and chew her bottom lip with the best of them at the sight of sexy Christian, so we don't care that she's actually 30 years old (if you can believe it). She's our girl!"
Alexandra Daddario, 26
Daddario has recently become a fan favorite. She ended up in second place in a recent Ana Steele poll.
The actress was featured on Radar Online's "5 Faves for '50 Shades of Grey'" list to play Anastasia Steele. The website said, "The Percy Jackson starlet nails Ana's mix of innocence and curiosity."
Daddario is also pinned on Pinterest as a popular choice for the role. One viewer said, "Her + Matt Bomer is perfect!"
One Books & Review commenter said, "I think Alexandra Daddario is the perfect Ana. She has the long brown hair, alabaster skin, blue eyes too big for her face & pouty lips. She has an innocent beauty requiring no makeup & can be played up sexy when need be."
Ashley Greene, 25
This actress recently became a huge fan favorite.
Greene plays Alice Cullen in the "Twilight" movies. Her role becomes more prominent as the "Twilight" movies progress. She plays Alice wonderfully, just like how Alice is described in Stephanie Meyer's "The Twilight Saga" novels.
According to Hollywood Life, the brunette beauty spoke at the Young Hollywood Awards about the erotic novel.
"I've read it," Greene said, who plays Alice in all the 'Twilight' films. "I feel like I kind of had to, it's now pop culture and they're making it into a film. I'm not finished with all of them, but I'm on the third book."
Greene recently said that she read the steamy "Fifty Shades" books.
"I feel like I kind of had to, it's now pop culture and they're making it into a film. I'm not finished with all of them, but I'm on the third book."
Greene came in second in a previous Ana Steele poll right behind Daddario. In a more recent poll, the Alice actress jumped to third place, passing Lucy Hale and Emilia Clarke.
According to the Examiner, Greene could definitely play the part.
"Greene certainly has the beautiful, wide-eyed looks and innocent nature needed for the part," the website said.
Greene is featured as Ana on an Anastasia Steele Twitter account, @AnaRSteele."
"Recent graduate from WSU whose whole world changed when I fell into @christiantgrey's office. (Mature #50ShadesofGrey RP)," reads the description.
One Books & Review commenter said, "Ashley Greene is definitely the on to play Anastasia...I am so surprised they have not found her yet."
Unknown Actress
We here at Books & Review added an unknown section to the poll, since many commenters started suggesting that the two key roles should be played by not well-known stars. One is unknown actress Lauren Watson.
The Examiner recently did an interview with Watson about the upcoming "Fifty Shades of Grey" movie. She's off to a good start.
"Yes, I have read the books! I didn't know anything about them and one of my friends said GO! NOW! Get the books and read them today!' I couldn't argue with that! I got them and read them all within the week! I was hooked," Watson said.
When asked about her fans and if she would consider the role of Ana, she said, "I've heard! The fans have been absolutely amazing! It is definitely a role I would consider."
Her IMDb page doesn't give away much information about the unknown actress. She played Sweater Set Girl (as Lauren Dowe) in "This Means War." She also played Themis in "13 Witches."
In August, Crushable.com considered Watson a candidate for Ana Steele. On "Fifty Shades Obsessed's" Facebook page, the page said, "Could this be our Ana? Her name is Lauren Watson. She is not a 'big name' actress, but has those too big for her face blue eyes. What do you think?"
The post got 7,829 likes and 73 shares.
There is also a Facebook page that is named "Lauren Watson for Fifty Shades of Grey," advocating for her to get the part.
Watson seems like a good candidate for Ana Steele. She has those "blue eyes too big for her face." She would look good with either three actors she's mentioned. Bomer and Pavelka are huge fan favorites for the role of Christian.
Vote for your favorite actress to play Ana Steele NOW!
Click HERE to see who the front-runners are this week for Christian and Ana.
Click HERE to vote for Christian Grey!
Related Articles
'Fifty Shades of Grey' Movie Casting News: Ian Somerhalder Hints at Christian Grey Role? Robert Pattinson Gives Tough Competition
'Breaking Dawn Part 2' Trailer: First Look at 'Twilight' Marathon Lanyard, Final Poster Details, Soundtrack, Note From Carlisle [PHOTOS]
'Winter of the World' Review: Ken Follett's Second 'Century' Novel Tops 'Fifty Shades of Grey'
TRENDING ON THE WEB