Hilary Mantel, J.K. Rowling Bash 'Fifty Shades of Grey' by E.L. James
Books & Review
Updated: Oct 17, 2012 04:30 PM EDT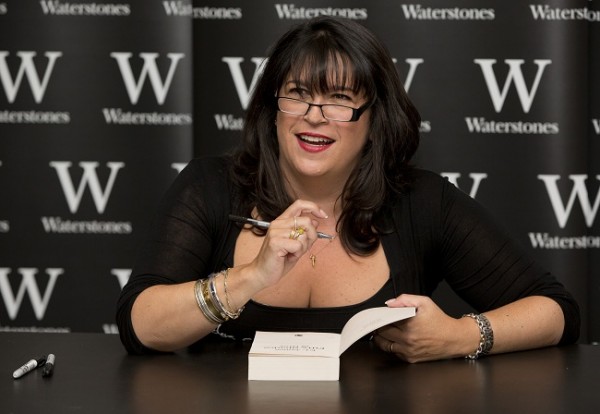 E.L. James' erotica trilogy "Fifty Shades of Grey" has enjoyed rapturous popularity since its release. The fandom behind the novels is impossible to ignore. Readers share the kinky gospel of James like wildfire with anyone they come into contact with. But not everyone is cozying up to "Fifty Shades." In fact, authors like Hillary Mantel, and J.K. Rowling find the success of the James' novel down right funny.
A recent winner her second Man Booker Prize for the book, "Bring Up the Bodies," Mantel said books about "whips and chains" would always have their attractions, but said it was important that there should always be an appetite for more challenging works.
Mantel was speaking after receiving her unprecedented second Man Booker Prize -- unprecedented because the first book in the series about Thomas Cromwell, "Wolf Hall" was awarded the same prize in 2009. Mantel joins JM Coetzee and Peter Carey as the only writers to have twice won the award. She is also the first British author, and the first woman, to have done so.
Asked about the current state of the novel, Mantel said, "I think it's a mistake to get too hung up on the sadomasochism business."
"There'll always be some kind of genre fiction, whether it's whips and chains or boy wizards, making its way to the top. But what is important is that there is a healthy appetite for what people off-puttingly call serious fiction," she said, adding a barb at Rowling, as well.
"But I have always thought, fiction can be popular but it can also be good, and worth reading twice."
Since being published last year, "Fifty Shades" has become notorious for its explicit sexual content and controversial portrayal of a relationship involving BDSM. The novel has sold more than 30 million copies in the U.S., and more than 10 million copies to British readers, making James' book the UK's fastest-selling book of all time. All three books from James' trilogy have remained in the top five of The New Yorks Times' bestsellers list for over three months.
Rowling is also confounded and amused by the success of the "Fifty Shades" series. In a recent interview promoting her new bestselling book, "The Casual Vacancy," the author revealed that she was amused that the most famous "adult" fiction of the moment is "Fifty Shades of Grey." But, she says, there's a big difference between the "adult" subject matter in her novel and James'.
"The difference should be, people have sex in this book but no one really enjoys it," she said of her own book at a reading in New York.
Rowling prefers to call her latest work a "novel for grown-ups," noting that she doesn't want readers confused into thinking she has moved from mythical wizards and witches to something more like E.L. James' wildly popular erotica books.
James' books have been such a wide spread success the first novel is currently being turned into a film. Kellen Lutz, Ian Somerhalder, Ryan Gosling, Christian Bale, Matt Bomer, and even Justin Beiber are among many actors' names that have already been mentioned in casting the leading role of Christian Grey, a troubled businessman who seduces an innocent college graduate called Anastasia Steele. "New Girl" star Max Greenfield even said recently he would do full-frontal nudity for the film if he was cast in the lead.
Not every actor is vying for the role though. In fact, fan favorite Robert Pattinson, recently dissed James and her books in a recent interview. According to Hollywood Life, Robert Pattinson couldn't care less about either.
A new source has come out saying of Pattinson's rumored connection to the project, "There isn't even a script, and it is still very much in development with Universal, so he doesn't even have it on his radar... It's a complete out of sight, out of mind situation. He is happy with his current career path and is not in any way bothered by talk of him being in the film. He just doesn't care."
The actor who plays Edward Cullen in the "Twilight" series said he can't believe her book is on the New York Times bestseller list and said he would make her pay for dissing him for the lead role in the upcoming film based on the book.
Some Books & Review commenters have also been less than kind to James' trilogy.
"I don't really care that it is porn on the big screen, don't take your kids, it's as simple as that. What I find troublesome is that it is an abusive relationship dressed up in a Harlequin romance setup with BDSM trappings. People are using this book as a how-to guide which is A TERRIBLE IDEA. People are going to get hurt if they don't have proper training, none of which addresses the complete lack of understanding of the psychology of the BDSM lifestyle.
Because of the above, I would never, ever want a talented actor like Jensen Ackle tied to this movie. Thank goodness he'll be too busy filming 'Supernatural!'"
"I had little to no knowledge of BD.. before reading the books. This didn't change much once I had read them. You are giving the books more credit than they deserve."
"I really hope that Jensen would never accept this role. FSOG is crap and Jensen being as talented and sexy as he is deserves soooooooooooo much better then is!!!!!!"
While it's hard to know just where all this animosity is coming from, some of Rowling and Mantel's criticisms may stem from their professional opinion that James is just simply not a proficient writer and is undeserving of the success because of that.
related:
© 2015 Books & Review All rights reserved.
TRENDING ON THE WEB