Ipad Mini Release Date Draws Small Crowds, Is Apple's Price Too High to Rival Google Nexus 7, Amazon Kindle Fire Hd?
Books & Review
Updated: Nov 02, 2012 12:18 PM EDT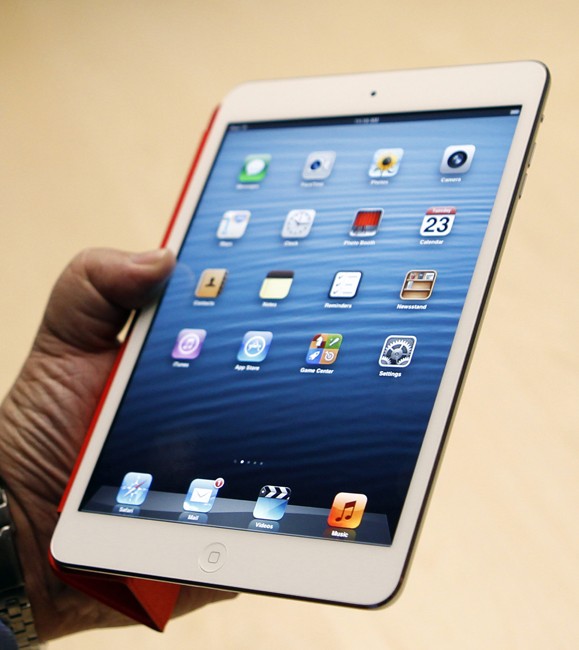 Has Apple lost its edge? Apple's iPad mini may have sold-out during pre-orders online, but the device's official release in stores today is a different story entirely.
Google Nexus 10 Tablet Reviews Mixed, Some Question Screen Quality Claims
While the release of gadgets past, like virtually every iteration of the iPhone, have drawn long lines outside its retail stores, as Apple stores opened their doors Nov. 2, not everyone had camped out days ahead just to get a place in line. As reports from numerous tech news sources seem to confirm, the frenzied excitement that surrounds most Apple product launch days was absent at the iPad mini's release.
Apple stores drew marginal crowds internationally, according to ComputerWorld, with 50 people waiting outside in Sydney, Australia, 100 at Tokyo and Seoul, 100 gathered outside in Amsterdam, and "maybe 100 took position at the company's flagship Regent Street, London store," said the website.
In the US reports are a mixed bag. Despite Hurricane Sandy, New York's Apple store still saw a large crowd gather for the iPad mini, with 500 waiting for the new device, while some Apple stores saw no one line-up at all, according to ComputerWorld.
One Apple store in Metro Detroit had just 13 people waiting to outside to buy the iPad mini, reported NASDAQ, with another two waiting on the iPad 4.
Whatever caused this dismal showing for the new device is anyone's guess. Price is certainly the easiest factor to point to. Many had expected Apple's iPad mini to attack the 7-inch tablet market at the jugular with a device priced between $200-300. At the time, that certainly made sense.
As most early reviews seem to suggest, the iPad mini packs the best features available for the 7-inch tablet market (even if it's technically an 8-incher, blah blah blah). But its higher-than-expected $329 price tag may not be competitive enough against other popular 7-inch Android tablets like Google's Nexus 7, and Amazon's Kindle Fire HD, both of which, are priced at $199.
Of course, as far as the Eastern Seaboard is concerned, Hurricane Sandy could have dampened the turn out. Even putting aside the torrential flooding, 4.5 million people who still remain without power, and gas shortages abounding in New York state, and New Jersey, the east coast's attention has been far more concerned with just getting their daily lives back to normal, and not focusing on a pretty new device from Apple.
Further, delivery of the devices to many retail locations has reportedly been delayed because of the storm, so, some locations may not have the device at all.
It's also possible consumers are waiting on Apple's introduction of the LTE version of the iPad mini later this month.
Still, analysts are predicting Apple has a hit on its hands.
Piper Jaffray analyst, Gene Munster says he expected initial demand to be relatively muted. He still believes the company will sell between 1 and 1.5 million units across the launch weekend.
"The reason we expect fewer iPad minis compared to the 3rd Gen is because of the lack of the wireless option and newness of the smaller form factor for consumers," Munster said. "We believe that over time that will change."
Brian White of Topeka Capital felt similarly, ensuring investors in a note Nov. 2 that the iPad mini would be a breakout hit for Apple.
"We believe the iPad mini is the next 'star' in the Apple portfolio and we believe the new device will shine this weekend with broad-based stock outs," wrote White.
Sterne Agee analyst Shaw Wu said in a note to investors on Nov. 1: "We continue to believe that the iPad mini is the competition's worst nightmare and will likely slow down the adoption of competitor tablets."
iPad Mini Specs
You'll be able to get an iPad Mini Wi-Fi model in three memory configurations: $329 for 16GB, $429 for 32GB, and $529 for 64GB. Starting Nov.16, we'll see Wi-Fi + 4G models hit the shelves at $459 for 16GB, $559 for 32GB, and $659 for 64GB.
The 1,024x768-pixel resolution matches that of the iPad 2, but on a 7.9-inch display. "This definitely isn't Retina Display, but it's better-than-iPad-2 display. Videos look excellent, and the IPS screen has great wide-viewing angles," said CNET.
Includes a front-facing 720p-capable FaceTime camera, and a 5-megapixel back camera, and also supports 4G LTE, 802.11a/b/g/n Wi-Fi at 5.2Ghz, Bluetooth 4.0, and will use Apple's Lightning connector, first seen on the iPhone 5.
Apple claims that the Mini has a 10-hour battery life.
related:
© 2015 Books & Review All rights reserved.
TRENDING ON THE WEB