'Breaking Dawn Part 2' Soon, Author Stephanie Meyer Hints at More 'Twilight'
Books & Review
Updated: Nov 05, 2012 11:15 AM EST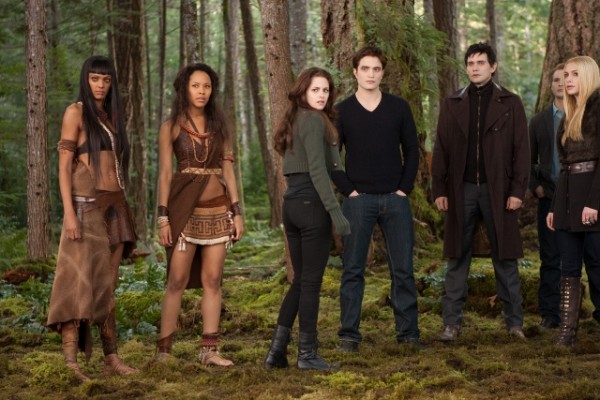 When "Breaking Dawn - Part 2," the final film from the "Twilight" saga, hits theaters in a few weeks it will be the end of an era for many fans. Not to mention a dark day for its studio, Summit; it's hard saying goodbye to a $2.5 billion franchise. But while this might be the last film in the series, there could still be more "Twilight" down the line, according to author Stephanie Meyer.
At a recent press conference in Los Angeles for the "Twlight" films, Meyer teased that we may not have seen the last of her glitter-specked star-crossed lovers Edward and Bella. When asked if she had any plans to write more "Twilight" stories, she revealed, "I planned out where it would go for a couple more books... there are other characters who I think would have a lot of voice in those coming stories."
So, perhaps we'll Meyer flesh out her "Twilight" universe even more. Original stars like Kristen Stewart, Robert Pattinson, and Taylor Lautner will abandon ship after "Breaking Dawn - Part 2," so it's doubtful they'd be involved in any future projects, but Meyer could always follow Bella's daughter Renesmee for a spin-off.
"I wouldn't say no absolutely. I'm not going to do it today, but I don't know how I'm going to feel in five years," Meyer added.
Producer Wyck Godfrey joked that "we keep sending her the George Lucas press releases," suggesting that maybe someone else could take Meyer's treatments and carry the "Twilight" story further down the road.
Meyer continued to say that she still has great affection for her characters, and that she can't imagine letting someone else write the series for her, noting she wouldn't be tempted to follow in George Lucas' footsteps and hand over the franchise to someone else.
'I'm a hands-on mum and these characters feel like my kids," she explained. "I just don't know if that's ever something I'd be fine with. But again, in 10 years, who knows."
Talk of continuing the "Twilight" franchise first surfaced earlier in 2012. Various sources reportedly spoke to people at Lionsgate who had heard talk of turning the franchise into a TV series after the final film.
"If she (Meyer) wishes to do it, we'll be there to support her," Lionsgate motion picture group co-chair Rob Friedman said at the time, according to Moviehole.
The site spoke to unnamed sources that said "They're already onto the ['Breaking Dawn'] follow-up." Sources allege that the series could be going through a "reboot," with everything from a TV series, or film spinoff set in the same world with different characters to something involving "The Wolf Pack" being considered.
It certainly wouldn't be a surprise to see "Twilight" wind up on TV. Considering each film's tremendous financial returns - "Breaking Dawn: Part 1," made over $700 million worldwide - Summit Entertainment, the franchise's production company, is likely desperate to continue the steady blood flow of cash. They've got to be sweating more than Pattinson applying vampire concealer trying to find the next big thing.
"The Twilight Saga: Breaking Dawn - Part 2," starring Pattinson, Stewart and Lautner, is out on Nov.16.
related:
© 2015 Books & Review All rights reserved.
TRENDING ON THE WEB