Walmart, Target, Best Buy Black Friday Tablet, Laptop, HDTV Deals
Books & Review
Updated: Nov 12, 2012 12:23 PM EST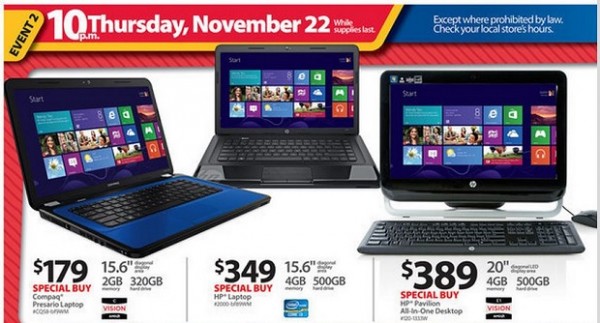 As the perfect storm of savings approaches, retail giants like Walmart, Target, and Best Buy continue to "leak" their holiday shopping deals ahead of the official start of Black Friday. Here's a compilation of some of the best deals you'll find in stores and online for tablets, laptos, HDTVs and more.
Walmart's doorbuster deals start at 8 p.m. on Thanksgiving night, Thursday Nov. 22, for "family-oriented products." Other sales start at 10 p.m., including an extremely cheap Compaq Presario Windows 8 laptop with AMD processor, 2GB of RAM, and a 320GB hard drive for $179.
Office Depot Black Friday Deals Leak
Other laptop deals include a pair of HP notebooks: a $279 15.6-inch model also sporting an AMD CPU, 4GB of RAM, and 320GB hard drive; and a $349.99 15.6-inch version with an Intel Core i3 processor, 4GB of RAM, and 500GB hard drive. HP is also advertising a 20-inch Pavilion all-in-one desktop with AMD processor, 4GB of RAM, and 500GB of RAM for $389. On Friday at 5 a.m., you will be able to purchase an Acer Ultrabook laptop with 13.3-inch display, Intel Core processor, 4GB of RAM, and 320GB hard drive for $499.
As usual, there's no real discount for Apple's iPad, but Walmart sweetens the deal by offering a $75 gift card if you purchase a $399 iPad 2 in store. If you're looking for a tablet at a rock-bottom price, Walmart is also selling an 8GB Barnes & Noble Nook Color tablet for just $99, and an 7-inch Ematic Android tablet with 4GB of storage will be available on Walmart.com for a mere $49 all Thanksgiving day.
Walmart's promised deals
Walmart is enticing Black Friday customers this year with a unique promise: every customer in the store or online between 10 p.m. and 11 p.m. on Thanksgiving will be able to buy three special electronics items at unheard of prices. Walmart has even guaranteed stores have enough inventory to fit the demand.
If you are in the store or on their website shopping by 10 p.m. you are guaranteed these sale items.
Apple iPad2: 16GB with Wi-Fi: on sale for $399 plus get a $75 Wal-Mart gift card
Emerson® 32" 720p LCD TV: on sale for $148
LG Blu-ray Player: on sale for $38.
Microsoft Surface Tablet Sales 'Modest,' Says CEO
If by chance the store runs out of the inventory, Walmart will deliver the device to a local store for you if you register for the item online.
A few other highlights from this year's Black Friday flyer
Thanksgiving night deals
Beginning 8 p.m. on Thanksgiving Walmart will offer:
Xbox 360 4GB with SkyLanders bundle on sale for $149
Nintendo's Wii console on sale for $89
Crock Pot 6-quart slow cooker and Mr. Coffee programmable 12-cup coffee maker on sale for $9.44 each
DVD and Blu-ray movies on sale for $1.96 to $9.96 each
Video games on sale for $10 to $25 each
Dolls Barbie, Bratz and Disney Princess dolls, on sale for $5 each.
10 p.m. on Thanksgiving Walmart offers:
Samsung 43-inch, 720p plasma HDTV: on sale for $378
HP 15.6 -inch laptop: with 4GB and 320GB hard drive on sale for $279
Beats by Dr. Dre headphones: on sale for $179.95
Samsung Smart ST195 digital camera: on sale for $99.
The Black Friday sales start at 5 a.m. on Black Friday morning, but the store will remain open from 8 p.m. the night before.
Target continues to start the holiday shopping season earlier every year, and will open its doors three hours earlier than in 2011, at 9:00 p.m. on Thanksgiving.
"We thought long and hard about when the right opening time would be," said Kathee Tesija, Target's executive vice president of merchandising in a press release. She said that 9:00 p.m. struck "a perfect balance" for its customers.
During Target's early opening, the retailer plans to offer deals that include an Apex 32-inch LCD TV for $147 and a Nikon digital camera for $99.99. From 4:00 a.m. to noon Nov. 23, customers who spend $50 or more on clothing, accessories or home products will earn a $10 Target gift card to use toward a future purchase. Target is also preparing additional early morning specials, including Leapfrog Explorer software for $15.
Target's dorbuster deals
Doorbuster deals for Target's Black Friday guests will provide some of the season's biggest savings. The sale will take place in stores and on Target.com from Thursday to Saturday, Nov. 22 to 24. Sale offers are valid until supplies last with no rainchecks.
Some of Target's best Black Friday deals include:
Apex 32" LCD TV, $147.00 (except AK/HI)
Nikon L310 digital camera, $99.99
Nook Simple Touch e-reader, $49.00
Select classic board games, $7.00
Beats Headphones, $179.99
Sony PS3 250MB Game System, $199.99 (includes console, two games and a wireless controller)
New Target Bonus Doorbusters at 4 a.m.
Black Friday guests shopping in Target stores will have even more ways to save beginning at 4 a.m. on Nov. 23. Until noon that day, guests who spend $50 or more on apparel, accessories or home products will earn a $10 Target GiftCard to use toward a future purchase.
For Black Friday diehards, at 4 a.m. on Nov. 23, Target will release four additional doorbuster deals:
Samsung 50" 1080p LED HDTV, $699.00
Canon A3400 Camera Bundle, $89.99
Fisher-Price Doodlepro Classic, $10.00
Leapfrog Explorer Software, $15.00
Black Friday Savings at Target.com
Or, if you'd rather shop without earning the battle scars to prove it, Target.com will have exclusive, online-only discounts beginning Thanksgiving Day on many of the season's top gifts and early access to select Black Friday doorbuster deals.
Target requires that you be a REDcard cardholder to gain access to its early Black Friday deals. REDcard holders who have previously signed up for emails or signed up to manage their accounts online will have exclusive access to 20 of the Target.com deals on Wednesday, Nov. 21, including:
Sony Portable Dock, $39.99
LEGO® Pirates of the Caribbean, The Black Pearl, $74.99
BARBIE® Furniture Set, $35.00
KitchenAid Classic Plus Stand Mixer, $199.00
Extended Thanksgiving, Black Friday and Christmas Holiday Hours
Aside from early access to its online Black Friday sales, Target also offers all REDcard members 5% off online and in-store, and free shipping on all orders.
Target will offer extended store hours throughout the holiday season for guest convenience. Store hours on Thanksgiving and Black Friday, Christmas Eve and the day after Christmas will be as follows:
Nov. 22-23: 9 p.m. (Thursday) to 10 or 11 p.m. (Friday)
Dec. 24: 8 a.m. to 9 p.m.
Dec. 26: 7 a.m. to 10 or 11 p.m.
Best Buy's 22-page preview - just a sliver of what's to come, the company promises - includes deals on everything from big-screen TVs and laptops to smartphones and tablets.
Doorbusters will be available once Best Buy stores open at midnight Thanksgiving night, to get the deals and in-store discounts, customers will need tickets, which will be handed out up to two hours before a store's midnight opening.
Tablet doorbusters include the 7-inch Samsung Galaxy Tab 2 7.0 with 8GB of storage in an exclusive white color for $179.99, or $70 off its normal price. The nabi 2 8GB Android tablet for kids will be available for $169.99, a $30 discount from its regular price.
Other doorbusters include a 15.6-inch Lenovo laptop for just $187.99 that features an AMD processor, 2GB of RAM and a 320GB hard drive; a 14-inch Asus notebook equipped with an Intel Pentium CPU, 4GB of RAM, and 320G hard drive for $249.99. and a Dell desktop with an Intel Core i5 processor and bundled with a 20-inch LED-backlight monitor for $499.98.
There's also a Samsung laptop bundle for $349.95 that includes a carrying case, wireless mouse, and security software, though no details about the notebook's specs have been given.
Other tablet deals include Acer's Iconia Android with 16GB of storage for $249.99, while Asus has a similar model for $279.99. Best Buy has the same price on the Amazon Kindle Fire ($159.99) and Kindle Fire HD ($199.99) as everyone else, but is trying to sweeten the deal by offering $30 Best Buy gift cards if you buy from one of its stores.
The preview also has a page of Apple deals, although, as several sites have noted, these appear to be the usual 10-percent off deals Apple always offers on Black Friday. You can get $40-$60 of savings off full-sized iPads (both the iPad 2 and the new iPad with Retina Display) or a 13.3-inch MacBook Air is $1,199.99 before $175 worth of savings.
There are also more deals on a variety of Windows 8 devices, such as an impressive selection of touch-screen laptops, from an 11.6-inch Asus for $449.99 to a 14-inch HP Envy with an Intel Core i7 processor for $629.99.
Best Buy is offering up a number of different HDTV deals (page 7 in the circular), from a 55-inch Samsung LED set for $799.99 to a 40-inch Toshiba LCD for $179.99. There are also many laptop options (page 12), including $200 off HP's Envy lineup.
Also on tap are discounted Roku boxes, gaming bundles, 10 percent off Beats by Dr. Dre headphones, and more.
related:
© 2015 Books & Review All rights reserved.
TRENDING ON THE WEB