Lenovo Black Friday Deals on IdeaPad Tablets, Laptops, Desktop Computers
Books & Review
Updated: Nov 23, 2012 01:29 PM EST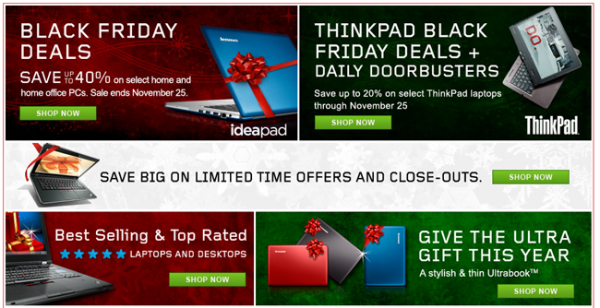 One of the more unique "other guy" tech companies, Lenovo has some attractive Black Friday offers on tablets, laptops, and devices that straddle the line in between like the IdeaPad Yoga 11.
IdeaPad
You can get four IdeaPad models for sale now, including the 7-inch A1 with 16GB of storage for $149 and the A2109 with 9-inch display and 16GB of capacity for $271.20. Or, if you'd like a bigger tablet, the 10.1-inch IdeaPad S2110 is available with either 16GB for $439.20 or 32GB for $463.20 -- both include a keyboard dock.
"The Lenovo IdeaPad A1 includes front and rear cameras, Bluetooth, memory expansion, and a full-fledged Android experience, at a great price. The Lenovo A1 is a classic Android tablet, at an attractive price, but its subpar screen gives the competition an edge," said CNET in its review of the tablet.
If you like the look of the new IdeaPad Yoga 11 convertible tablet/laptop devices running Windows RT, you can save over $150 on either of two configurations: one with 32GB of storage for $679.20, the other with 64GB of capacity for $759.20. Lenovo is offering deals on its entire IdeaPad consumer laptop line, ranging from $383.20 for a S300 model in either silver or pink with Intel Celeron processor, 4GB of RAM, 500GB hard drive, and 13.3-inch display to $1,239.20 for a 15.6-inch Y500 with Core i7-3632QM CPU, 16GB of RAM, terabyte hard drive, and 16GB solid state drive (originally listed at $1,549).
IdeaCenter
Lenovo is also discounting its IdeaCenter desktops.
The K430-31092XU starts at $559.20 ($139.80 off its normal price) for Core i3-2120, 6GB of RAM, 1TB hard drive, DVD burner, and AMD Radeon HD 7450 graphics card.
"With good productivity performance, better upgrade options than most machines, and ample RAM, the K430 is a well-balanced PC for the price," said Computershopper.com in its review.
The K430-31092SU is $239.80 off at $959.20 for a quad-core Core i7-3770 processor, 16GB of RAM, 2TB hard drive, and Nvidia GeForce GT 545 graphics.
The minuscule IdeaCentre Q180 starts at $343.20 and includes an Intel Atom CPU, 4GB of RAM, 500GB hard drive, DVD burner, and Radeon HD 7450A graphics.
All three systems come standard with Windows 7, though they are customizable.
If price is your king, your best may be the Q190 series, which starts at the lower price point of $335.20. The Q190 comes with Windows 8 standard, along with an Intel Celeron chip, 4GB of RAM and 500GB hard drive, although it does not include an optical drive. The B series is the lower-priced all-in-one lineup (and also comes with Windows 7 standard), starting at $879.20 (originally $1,099) and built around a 23-inch full HD display, 8GB of RAM, 2TB hard drive, DVD burner, and GeForce GT 615 graphics. Starting at $1,399.20 (regularly $1,749), the A series goes big with a 27-inch touchscreen display, 8GB of RAM, terabyte hard drive, DVD burner, and GeForce GT 630M graphics. Again, Windows 7 comes standard.
Top PC supplier in the world
Lenovo continues to buck industry trends, reporting high PC and laptop shipments in the face of dismal sales from competing companies. The company announced another set of extremely healthy financial results recently in an earnings report that claimed Lenovo has become the largest consumer PC and laptop supplier.
"The company's PC sales have consistently grown ahead of market rates over the past three and a half years, and in the last quarter grew by eleven percent year-over-year. In contrast, the consumer PC market as a whole shrank by eight percent over the same period. The growth contributed towards record quarterly sales totaling $8.7 billion and a pre-tax income of $204 million," said tech website The Verge.
related:
© 2015 Books & Review All rights reserved.
TRENDING ON THE WEB