'Sweet Tooth' by Ian McEwan: A Spy Novel With Love and Relationships, No Food Involved
Books & Review
Updated: Nov 26, 2012 04:36 PM EST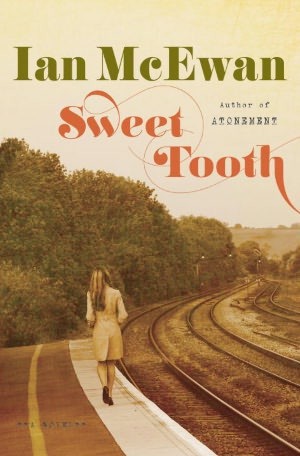 "Sweet Tooth" is not what you think from the title. No food is involved; instead, it's a spy novel with a story of love and relationships all mixed in.
Knopf Doubleday Publishing Group published "Sweet Tooth," written by Ian McEwan on Nov. 13. It is number four on the New York Times Hardcover Fiction Bestseller list.
The 320-page book is described:
In this stunning new novel, Ian McEwan's first female protagonist since Atonement is about to learn that espionage is the ultimate seduction.
Cambridge student Serena Frome's beauty and intelligence make her the ideal recruit for MI5. The year is 1972. The Cold War is far from over. England's legendary intelligence agency is determined to manipulate the cultural conversation by funding writers whose politics align with those of the government. The operation is code named "Sweet Tooth."

Serena, a compulsive reader of novels, is the perfect candidate to infiltrate the literary circle of a promising young writer named Tom Haley. At first, she loves his stories. Then she begins to love the man. How long can she conceal her undercover life? To answer that question, Serena must abandon the first rule of espionage: trust no one.

Once again, Ian McEwan's mastery dazzles us in this superbly deft and witty story of betrayal and intrigue, love and the invented self.
This fiction novel received rave reviews:
Sweet Tooth is playful...a great big beautiful Russian doll of a novel, and its construction-deft, tight, exhilaratingly immaculate-is a huge part of its pleasure. There are stories within stories, ideas within ideas, even images within images...Sweet Tooth is a comic novel and a novel of ideas, but, unlike so many of those, it also exerts a keen emotional pull. - Julie Myerson, The Observer
...McEwan has always been a good old-fashioned teller of tales, and the suspense and surprises in this book are well engineered...Sweet Tooth is extremely clever in both the British and American senses (smart as well as amusingly tricky) and his most cheerful book by far. - Kurt Anderson, The New York Times
Ian McEwan's delicious new novel provides all the pleasures one has come to expect of him: pervasive intelligence, broad and deep knowledge, elegant prose, subtle wit and, by no means least, a singularly agreeable element of surprise. In Sweet Tooth, as elsewhere in McEwan's fiction, things are not always what they seem to be, with the result that the reader is permitted to delight in the aforementioned pleasures while wondering all the while what, exactly, is going on. - Jonathan Yardley, The Washington Post
McEwan is the author of "Atonement," which was adapted into a film that starred Kierra Knightley. It looks like "Sweet Tooth" is on its way to be another of McEwan's popular novels.
You can buy "Sweet Tooth" on Amazon for $15 hardback and $10.85 paperback.
related:
© 2015 Books & Review All rights reserved.
TRENDING ON THE WEB