'Gone Girl' Movie Cast: Ben Affleck and Rosamund Pike To Star in Film Version of Gillian Flynn's Best-Selling Novel
Books & Review
Updated: Jul 26, 2013 09:51 AM EDT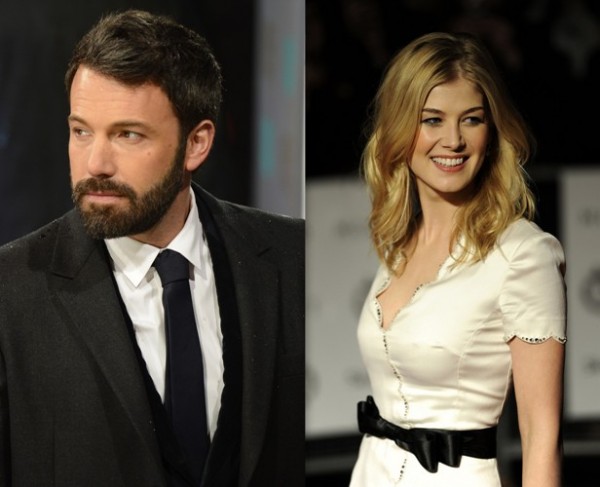 Actors Ben Affleck and Rosamund Pike have been casted to play the lead roles in the David Fincher-directed, movie adaptation of Gillian Flynn's bestseller "Gone Girl."
Gillian Flynn's "Gone Girl" was likened to E.L James' erotic novel "Fifty Shades of Grey." The book was touted to be repeated the erotic novel's phenomenal success of 2012 in 2013. A Daily Mail reported called "Gone Girl" the new Fifty Shades.
While casting details of the film version of James' erotic novel remains scanty, officials of the "Gone Girl" movie adaptation seem to be wasting no time in getting the perfect cast together. According to recent reports, while David Fincher has been chosen to direct the film, actor Ben Affleck and actress Rosamund Pike have been selected to play the lead roles.
Pike will play Amy Dunne, a woman who disappears on her wedding anniversary and her husband Nick, to be played by Affleck becomes the main suspect.
The Hollywood Reporter, which broke the news, suggests that Olivia Wilde, Charlize Theron, Natalie Portman and Emily Blunt had also been in the running, with other outlets claiming Pike and Jessica Chastain were the final two frontrunners for the role.
Reese Witherspoon's production company bought the rights to Flynn's book earlier this year and reports confirm that Witherspoon has decided to play only a behind-the-scenes role in the film.The film is scheduled to start shooting in September for a 2014 release.
The book was released in June 2012 and sold over 2 million copies worldwide.
related:
© 2015 Books & Review All rights reserved.
TRENDING ON THE WEB