'The Hunger Games: Catching Fire' Movie Cast Update: Jena Malone Confirmed to Play Johanna Mason
Books & Review
Updated: Jul 23, 2012 12:36 PM EDT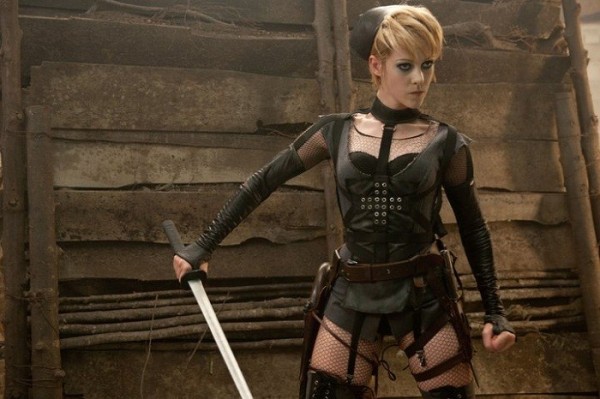 Lionsgate and the filmmakers of "The Hunger Games: Catching Fire" announced Monday that actress Jena Malone has been cast to play the role of Johanna Mason.
"Catching Fire," the film adaption based on the second novel in Suzanne Collins' bestsellers trilogy "The Hunger Games," is set to release in theaters Nov. 22, 2013.
Malone recently starred opposite Kevin Costner and Bill Paxton in the History Channel's Emmy® nominated mini-series "Hatfields & McCoys," according to the press release. The mini-series broke cable records and is the new most-watched entertainment telecast of all time on cable. Her additional credits include Zack Snyder's "Sucker Punch," where she played Rocket, Oren Moverman's "The Messenger," and Sean Penn's "Into the Wild." She will soon begin production on Lonely Hunter.
In the beginning of July, reports said that Malone was in early negotiations for the part, but it is now confirmed.
Johanna Mason is a female victor from District 7. She's in her early twenties and is one of the youngest, but also one of the most psychologically scarred Quarter Quell participants.
In the story, Johanna aligns with Katniss Everdeen (Jennifer Lawrence) and Peeta Mellark (Josh Hutcherson) in their return to the 75th Hunger Games. A rebellion against the Capitol has begun, and there is more pressure than ever. Author of the bestselling novels Suzanne Collins made Johanna with a snide personality, wits and she gets physical some scenes in the book. Her first appearance in the book is when she strips out of her tribute costume in an effort to make Katniss uncomfortable.
Johanna is also said in the popular trilogy of books to be gifted with "the wicked ability to murder." She wins her games by pretending to be weak and then picking off the other tributes.
Josh Hutcherson recently spoke to reporters after The Teen Choice Awards on the casting of Malone and others, according to the Examiner.
"I'm super excited," Hutcherson told reporters. "I think Jena Malone is fantastic. Amanda Plummer is fantastic. I think also Philip Seymour Hoffman is one of my favorite actors ever."
Malone will join lead Jennifer Lawrence (Katniss), Liam Hemsworth (Gale Hawthorne), Hutcherson (Peeta Mellark), Elizabeth Banks (Effie Trinket), Lenny Kravitz (Cinna), and Woody Harrelson (Haymitch).
Recently, Lionsgate announced that Philip Seymour Hoffman will play Plutarch Heavensbee. The Oscar winner reportedly said yes to the role of Heavensbee, who takes over as Head Gamemaker after the murder of Seneca Crane, which took place in the first "Hunger Games" film.
Actress Amanda Plummer has been cast in the role of Wiress. She was the one who pointed out the flaw in the invisible force fields in the Capitol and revealed that the arena was shaped and operated lick a clock. Her district partner is Beetee.
related:
© 2015 Books & Review All rights reserved.
TRENDING ON THE WEB