London 2012 Artistic Gymnastics Men's Rings: China Dominates to Win Gold; Google Doodle Changed
Books & Review
Updated: Jul 31, 2012 03:11 PM EDT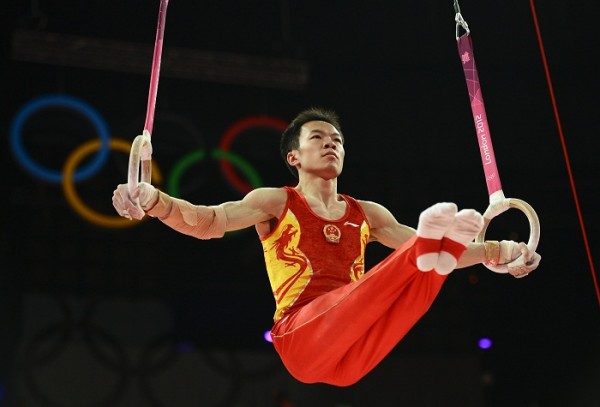 Google has replaced its usual Google logo on the homepage with the London 2012 Artistic Gymnastics Men's Rings doodle.
The London 2012 Artistic Gymnastics Men's Rings doodle is the fifth Google doodle this Olympics.
IBN Live listed some facts about artistic gymnastics:
"Rings gymnastics is exclusively a men's competition and involves two rings, each with an internal diameter of 18 centimetre that are suspended 2.8 metres from the floor.
"Ring routines at the Olympics should include swings and handstands to emphasise muscle strength and the programme must end with an acrobatic dismount. Rings final is scheduled for August 6."
According to the Associated Press, the Chinese won their second straight Olympic title and third in four games. making anyone who wrote them off after a dismal performance in qualifying look silly. Their score of 275.997 points was more than four points better than Japan, which needed help from a DVR to finish second.
Britain was initially announced as the silver medalist, setting off raucous celebrations at the O2 Arena. The British don't have a proud history in gymnastics - they barely have any history - and this was their first men's team medal in a century. But Japan questioned the score of three-time world champion Kohei Uchimura on pommel horse, the team's very last routine.
China also won the last five world titles, and now has gone eight years without losing at a major competition.
The Americans, hoping for their first Olympic title since 1984 after finishing No. 1 in qualifying, lost all hopes for any medal with a dismal showing on pommel horse, their second event. They rallied to finish fifth.
"There is no hiding at all in the qualification," said Zou Kai, the triple gold medalist in the Beijing Olympics, according to the Global Times. "Who would like to stay back in the Olympic qualifying? If we do so, we lose chance in individual finals."
Chinese Olympic debutant Zhang Chenglong said he had learned how to deal with stress.
"I did not feel a lot of pressure in the final in spite of our mistakes in the qualifying," he said. "We had beaten Japan before. We are just fighting the old opponents."
China ranked sixth in the qualifying and Japan fifth, making the two arch rivals in the same rotation in the final.
Uchimura, world all-around champion, was disappointed with his fault in the pommel.
"We know we need to avoid mistakes if we want to beat China, but it's so difficult," he added.
"We have been watching Chinese since the Beijing Olympics. They are strong despite the retirement of (the Olympic all-around winner) Yang Wei."
related:
© 2015 Books & Review All rights reserved.
TRENDING ON THE WEB