Fattest State in America 2012 List: Who's Tipping the Scales?
Books & Review
Updated: Aug 15, 2012 01:41 PM EDT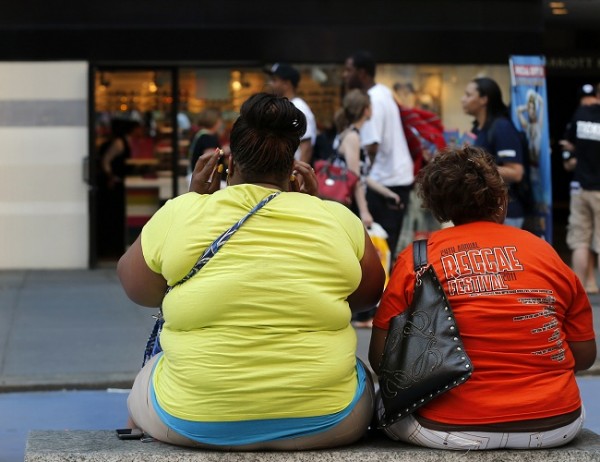 It's everyone's favorite time of year again. That's right. The Trust for America's Health has just released one of its annual dollops of public shame in a report analyzing obesity rates by state. Judged by criteria such as the amount of adult obesity, the report lists America's most unhealthy states, and reveals that the top 12 heaviest states have an adult obesity rate above 30 percent. So get out your Rascal Scooters and moo-moos. Let's sweat n' scroll!
The report used state obesity rates made available by the U.S. Centers for Disease Control and Prevention (CDC). This year's biggest winners? Mississippi at number one, with an adult obesity rate of 34.9 percent, and Colorado at 50 with the lowest rate of 20.7 percent.
Twenty-six of the 30 states with the highest obesity rates are in the Midwest and South.
"Obesity has contributed to a stunning rise in chronic disease rates and health care costs. It is one of the biggest health crises the country has ever faced," said Jeffrey Levi, PhD, TFAH executive director. "The good news is that we have a growing body of evidence and approaches that we know can help reduce obesity, improve nutrition and increase physical activity based on making healthier choices easier for Americans. The bad news is we're not investing anywhere near what we need to in order to bend the obesity curve and see the returns in terms of health and savings."
Later this summer, TFAH and RWJF will release the 2012 edition of "F as in Fat," the annual report that analyzes state obesity rates and policy efforts to address the epidemic, and provides policy recommendations. For the first time, the 2012 report will include a study that forecasts 2030 obesity rates in each state and the likely resulting rise in obesity-related disease rates and health care costs.
In 2006, obesity-related medical costs totaled $147 billion a year, or nearly 10 percent of total medical spending, according to a 2011 study in Health Affairs. The bulk of the spending is generated from treating obesity-related diseases, such as diabetes.
"Our nation has made important inroads to creating healthier communities," said Risa Lavizzo-Mourey, MD, MBA, RWJF president and CEO. "Some cities and states that have taken comprehensive action to address the epidemic are beginning to see declines in their obesity rates. But we need to expand and intensify our efforts. Investing in prevention today will mean a healthier tomorrow for our children."
STATE-BY-STATE ADULT OBESITY RATES
According to the newly released CDC data, part of the 2011 Behavioral Risk Factor Surveillance Survey, the obesity rates by state from highest to lowest were:
1. Mississippi (34.9%); 2. Louisiana (33.4%); 3. West Virginia (32.4%); 4. Alabama (32.0%); 5. Michigan (31.3%); 6. Oklahoma (31.1%); 7. Arkansas (30.9%); 8. (tie) Indiana (30.8%); and South Carolina (30.8%); 10. (tie) Kentucky (30.4%); and Texas (30.4%); 12. Missouri (30.3%); 13. (tie) Kansas (29.6%); and Ohio (29.6%); 15. (tie) Tennessee (29.2%); and Virginia (29.2%); 17. North Carolina (29.1%); 18. Iowa (29.0%); 19. Delaware (28.8%); 20. Pennsylvania (28.6%); 21. Nebraska (28.4%); 22. Maryland (28.3%); 23. South Dakota (28.1%); 24. Georgia (28.0%); 25. (tie) Maine (27.8%); and North Dakota (27.8%); 27. Wisconsin (27.7%); 28. Alaska (27.4%): 29. Illinois (27.1%); 30. Idaho (27.0%); 31. Oregon (26.7%); 32. Florida (26.6%); 33. Washington (26.5%); 34. New Mexico (26.3%); 35. New Hampshire (26.2%); 36. Minnesota (25.7%); 37. (tie) Rhode Island (25.4%); and Vermont (25.4%); 39. Wyoming (25.0%); 40. Arizona (24.7%); 41. Montana (24.6%); 42. (tie) Connecticut (24.5%); Nevada (24.5%); and New York (24.5%); 45. Utah (24.4%); 46. California (23.8%); 47. (tie) District of Columbia (23.7%); and New Jersey (23.7%); 49. Massachusetts (22.7%); 50. Hawaii (21.8%); 51. Colorado (20.7%).
Note: 1 = Highest rate of adult obesity, 51 = lowest rate of adult obesity. Individuals with a body mass index (a calculation based on weight and height ratios) of 30 or higher are considered obese.
CDC has modernized the methodology for BRFSS this year, setting a new baseline for comparisons. The updated approach, incorporating cell phones and using an iterative proportional fitting data weighting method, means rates are even more reflective of each states' population, but that the rates were determined in a different way than in the past, making direct change comparisons difficult.
The full data set can be found at The CDC's website.
related:
© 2015 Books & Review All rights reserved.
TRENDING ON THE WEB