'The Fault in Our Stars' Author John Green Urges Fans to Join 'Night of Infinities' Sleepover
Books & Review
Updated: May 15, 2015 05:59 AM EDT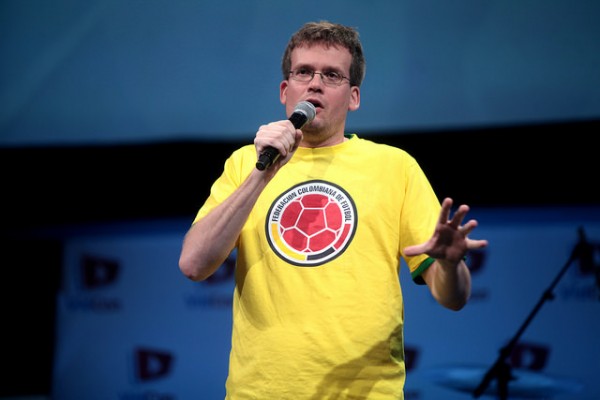 "The Fault in Our Stars" author John Green, wants fans to join in a sleepover fundraising activity on June 26, reports The Guardian.
The sleepover, called "Night of Infinities", aims to raise funds for the Teenage Cancer Trust, a charity that financially supports teenagers who are battling cancer. With the sleepover, Green and the Teenage Cancer Trust wish to raise at least £25,000, as well awareness on cancer.
"I worked as a student chaplain at a children's hospital about 15 years ago for five months. During that time I started wanting to write about the young people I had met there... It just took a long while for that book to become 'The Fault in Our Stars'.
"From that experience, I understand the importance of charities such as Teenage Cancer Trust and the work they do in bringing young people together and helping them get the best possible care in the best possible environment. I would be delighted if fans of my book were able to translate that into tangible support for the charity," Green said.
The main characters of "The Fault in Our Stars", Hazel and Gus, met and fell in love in a cancer support group, much like the patients from the Teenage Cancer Trust.
The novel, published in 2012, went on to debut at the top spot in the New York Times best-selling list. Just last year, the book's big-screen adaptation was also released, starring Shailene Woodley as Hazel and Ansel Elgort as Gus. The movie grossed over more than $307 million worldwide, gaining a huge following for the book and the author as well.
The book's publisher, Penguin, has released a "Night of Infinities" sleepover packet, that includes various sleepover activities, such as baking and selling a cake, playing karaoke songs from the movie's soundtrack, and taking facepack selfies with family and friends.
The packet also includes instructions on how to raise funds, real stories of teenage cancer patients, and a personal thank-you note from John Green himself.
The sleepover could also provide the opportunity for fans to meet and interact with each other through online games and activities.
Head over to Penguin's official website to download the free sleepover packet and for more information about the sleepover.
related:
© 2015 Books & Review All rights reserved.
TRENDING ON THE WEB