Samsung Galaxy Note 2 Specs: Verizon vs T-Mobile vs AT&T Showdown: Which U.S. Carrier is Best For You Before Release Date?
Books & Review
Updated: Oct 26, 2012 11:18 AM EDT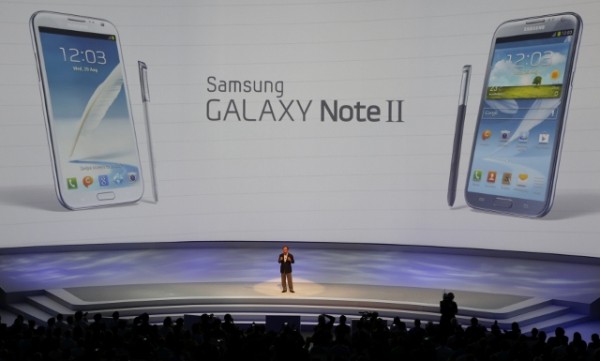 It seems that Verizon and AT&T both listened to frustrated customers looking for some sort of information about their versions of the Samsung Galaxy Note 2.
The Note 2 is now available for pre-orders from Verizon and AT&T on their websites.
The Verizon website says that pre-orders will ship by Nov. 27 and sells for $299.99. AT&T's orders are scheduled to ship on Nov. 6 for delivery on Nov. 9, which is what AT&T stated in a previous press release. It also sells for $299.99 with a two-year contract.
Verizon is selling the Note 2 in Titanium Gray and Marble White, while AT&T's phone comes in Titanium Gray.
"Arriving later this year running Android 4.1 (Jelly Bean), Galaxy Note 2 with 4G LTE combines the productivity of a tablet with the convenience of a smartphone and the S Pen features you need to unleash your creativity," wrote AT&T in a press release.
These are two popular U.S. carriers that users will likely get the Note 2, hence, Verizon has the largest 4G LTE network in the U.S.
There is another carrier though. T-Mobile also has a lot of smartphone users under its belt. Customers will get to see LTE (Long Term Evolution).
According to PopHerald, Anandtech reported that "T-Mobile's Samsung Galaxy Note 2 is 'future proof' because it will support the company's upcoming LTE or Long Term Evolution technology. According to the report, with a review post in hand, the Samsung Galaxy Note 2 of T-Mobile 'is capable of category 3 LTE FDD and TDD, Release 9 DC-HSPA+, GSM/EDGE, and TD-SCDMA along with onboard gpsOneGen 8A GNSS,' or for starters, evidence found inside the T-Mobile Galaxy Note 2 has confirmed that the operator's LTE is just around the corner and the Galaxy Note 2 will be one of the first phones that will support the feature."
T-Mobile is now selling the Note 2 on their website for $369.99 in colors Titanium Gray and Marble White with a two-year contract.
According to PhonesReview, T-Mobile anticipates that its LTE network will be accessible to over 200 million Americans by the end of next year so those who purchased the Galaxy Note 2 will be able to use the future T-Mobile LTE service.
Samsung's "phablet" will feature a 5.5-inch HD Super AMOLED screen and a rear 8-megapixel auto focus camera with LED flash and front 1.9 megapixel CT camera. It has a 1.6 Ghz quad-core processor and 4G LTE data speeds. It is also expected to have Android 4.1 Jelly Bean pre-installed and come with the S Pen experience and comes with up to 64GB of memory with 2GB RAM and a microSD slow up to 64GB.
So which one of these carriers will you go through to get your Galaxy Note 2? Sound off below!
related:
© 2015 Books & Review All rights reserved.
TRENDING ON THE WEB