'Fifty Shades of Grey' Movie Casting: 'Arrow' Stephen Amell Wants Christian Grey Role With Sexy Abs, 'Wicked Grin'
Books & Review
Updated: Nov 20, 2012 12:15 PM EST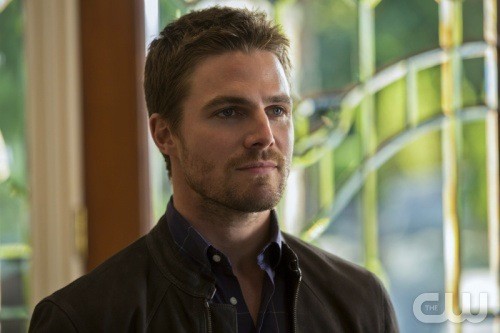 The contenders' list for Christian Grey keeps growing and growing. Despite fans wanting "real casting news," they have to stick with advocating for their favorite pick. A new fan favorite for the "Fifty Shades of Grey" movie: Stephen Amell.
Amell plays the sexy Oliver Queen, "a billionaire playboy who moonlights as a crime-fighting vigilante looking to clean up the streets of Starling City" and who shoots arrows on the new CW show "Arrow."
The 31-year-old actor recently dished about playing Christian Grey during an interview. He told WetPaint, "I got a link for a Christian Grey fan page, and they put a picture of me as Oliver Queen on there. I'm doing kind of an a**hole smirk, and it blew up. The 'likes' and the comments blew up."
So why is Amell a Christian Grey contender?
He added, "I mean if you think about it, it would be four movies, the last part being two parts. I don't even own a house yet. So I don't think that I'd be turning that down any time soon."
According to Look magazine, Amell "definitely" has what it takes to play Christian.
"After all, he's got the grey suits, the wicked grin, the amazing bod - he's perfect for it," the report said.
Gather Entertainment said, "Stephen's ab-tastic, arrow-shooting superhero character actually has a lot in common with Christian Grey besides his good looks - he's a filthy rich guy who went through a rough time in his life, and now he has a secret second life because of it."
The report said he could also deal with the raunchy sex scenes between Christian and Ana Steele because of playing a male prostitute on the show "Hung."
Amell has a lot of competition though. In recent Books & Review polls, "Supernatural" star Jensen Ackles is dominating Christian Grey polls, as well as "White Collar" star Matt Bomer and "The Vampire Diaries" star Ian Somerhalder. "Twilight" star Robert Pattinson has also been making "Fifty Shades" headlines" which being the "Sexiest Man Alive" and also playing the sexy Edward Cullen in the "Twilight" series.
Click HERE to vote for Christian Grey in a NEW poll!
Click HERE to vote for Anastasia Steele!
related:
© 2015 Books & Review All rights reserved.
TRENDING ON THE WEB